Swamp Deer Released into Bandhavgarh Tiger Reserve (BTR)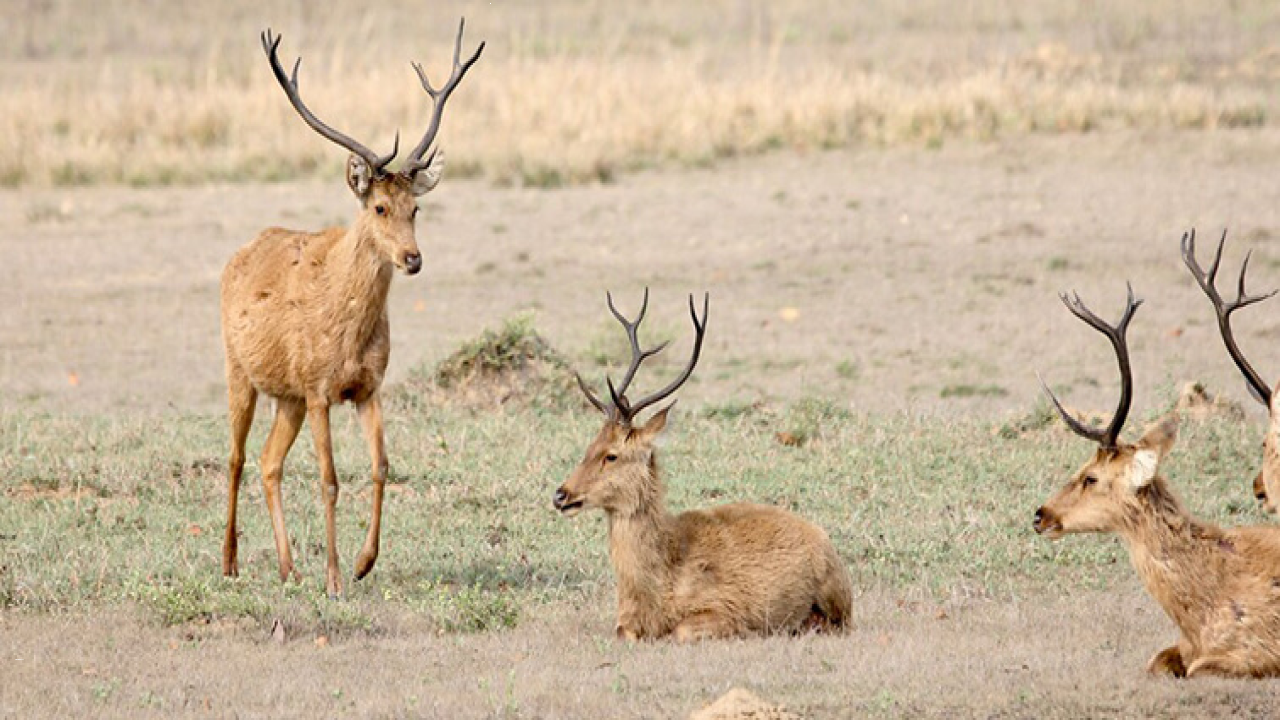 Bandhavgarh Tiger Reserve (BTR) is located in Madhya Pradesh's eastern Satpura hill range of Umaria and Katni districts. The name "Bandhavgarh" means "Brother's Fort" in Hindi and is derived from the mythological story of Lord Rama and his brother Lakshmana. It is believed that Lord Rama gave the fort to his brother to keep watch over Lanka, and the fort has since been known as Bandhavgarh. This tiger reserve is of vital importance due to its diverse flora and fauna, which includes a healthy population of tigers and various herbivores. Recently, several swamp deer were released into this reserve.
Bandhavgarh Tiger Reserve's Diverse Wildlife
Bandhavgarh Tiger Reserve has a unique ecosystem that comprises hills, valleys, rivers, marshes, and meadows, giving rise to diverse vegetation. The reserve is home to a healthy population of tigers, as well as 34 species of mammals, nearly 260 species of birds, and 70 species of butterflies.
Swamp Deer: A Recent Addition to Bandhavgarh Tiger Reserve
Recently, Bandhavgarh Tiger Reserve received a unique addition to its wildlife as 16 female and two male swamp deer were released into an enclosure built in the Magadhi zone of BTR. The Bandhavgarh Tiger Reserve management team brought the swamp deer from Kanha National Park, located approximately 200 kilometers away from the tiger reserve. The number of swamp deer in BTR has now increased to 37.
Barasingha Home: An Enclosure for Swamp Deer
The enclosure called 'Barasingha Home' located in the Magadhi zone of BTR was constructed to release the swamp deer. The enclosure is carnivore-proof, meaning that no carnivorous animal can enter the area. The swamp deer will be kept in the enclosure for about three years before being released into the wild. The management has made all necessary arrangements for the welfare and management of the swamp deer.
Interesting Facts about Swamp Deer
The swamp deer, also known as barasingha, is found in different parts of the Indian subcontinent.
The specific name of the swamp deer is Rucervus duvaucelii, named after the French naturalist Alfred Duvaucel.
Mature stags usually have 10 to 14 tines, and some have been known to have up to 20.
In Assamese, the swamp deer is called "dolhorina," with "dol" meaning swamp.
Tags: Bandhavgarh Tiger REserve • Madhya Pradesh
Month: Current Affairs - May, 2023
Category: Places in News Current Affairs