Page-3 of
Lunar Mission Current Affairs, GK & News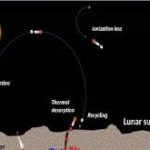 The Chandrayaan 2 detected Argon 40 in the lunar Exosphere. Argon 40 is one of the isotopes of Argon, a noble gas. The ISRO has given the detailed process by which Argon 40 reaches the Lunar exosphere Argon is an important constituent of lunar exosphere. It originates from the radioactive disintegration of Potassium-40 beneath the ..
Month: Current Affairs - November, 2019
Category: Science & Technology Current Affairs
Topics: Chandrayaan-2 • ISRO • Lunar Mission • Moon • Moon Mission • Potassium • space • Vikram Lander
The Israeli spacecraft Beresheet which crashed while attempting to land on the Moon was carrying a number of items including thousands of specimens of a living organism called tardigrade. What are Tardigrades? The tardigrades are also known as water bears. It is among the toughest and most resilient creatures on Earth. The tardigrades which can ..
Topics: Extremophiles • Lunar Mission • Psychrophiles • Tardigrade • Thermophiles • Xerophiles
India has successfully launched its lunar mission Chandrayaan-2 and the mission is expected to make soft-landing on the lunar surface with Vikram and its rover Pragyan on a site between two large craters in the South Polar Region. Why the South Pole has become the area of Focus? The South Pole has become an area ..
Topics: Lunar Mission • Lunar South Pole • Luxembourg • NASA • Outer space treaty • Peaks of Eternal Light • Pragyan • Shackleton Crater • Solar Energy • UAE • US • Vikram • Von Karman crater
National Aeronautics and Space Administration (NASA) has unveiled an updated budget request seeking more than $1 billion in additional funding to accelerate the return of astronauts to the moon by 2024. Features of the Artemis Mission Artemis stands for Acceleration, Reconnection, Turbulence and Electrodynamics of the Moon's Interaction with the Sun. Artemis is the twin ..
Topics: Lunar Mission • Moon • NASA • National Aeronautics and Space Administration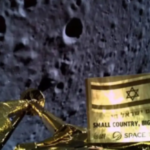 World's first privately funded lunar Mission Beresheet crashed on the Moon. Beresheet crashed during a landing attempt. It is said that the spacecraft had problems with its main engine during its descent that left it unable to slow down in time before it smashed into the lunar surface. About the Mission Beresheet (Hebrew for the ..
Month: Current Affairs - April, 2019
Category: Science & Technology Current Affairs
Topics: Beresheet • Falcon 9 rocket • israel • Israel Aerospace Industries • Lunar Mission • Moon • NASA • SpaceIL