Linguistics Current Affairs, GK & News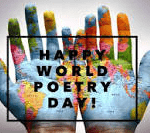 World Poetry Day is celebrated on March 21 every year across the world. During the UNESCO's session held in Paris, in 1999, it was decided that 21 March shall be celebrated as World Poetry Day. One of the prime objectives of the Poetry Day is to support linguistic diversity through poetry and to provide opportunity ..
Topics: In poetry • Linguistics • UNESCO
New Delhi based Journalist and English author, Tony Joseph won the 12th edition of Shakti Bhatt First Book Prize. Tony Joseph won the award for his book 'Early Indians: The Story of Our Ancestors and Where We Came From' which tells about the story of origins of the first humans who occupied the Indian subcontinent ..
Category: Awards, Persons & Places in News
Topics: Archaeology • Biology • DNA • Early Indians: The Story of Our Ancestors and Where We Came From • Linguistics • Population genetics • Shakti Bhatt Foundation • Social history • Tony Joseph
The International Translation Day (ITD) is celebrated every year on 30th of September to pay tribute to the work of language professionals. The 2019 theme  "Translation and Indigenous Languages", focuses on the indigenous languages that are in danger of disappearing. 
Topics: Academic disciplines • Indigenous language • Indigenous rights • International Translation Day • Jerome • Language • Linguistics • Translation
Professor Zuckermann of Australia is preserving the linguistic diversity of Australia. Australia is said to have had 250 languages during the colonial. However due to its geographical isolation, many are unknown. One of the languages called the Guugu gave the word "Kangaroo". Unfortunately, there are only 775 people speaking the language. The reason behind the ..
Topics: Australia • Contents • Human communication • Kangaroo • Language • Linguistics • Oceans
The International Literacy Day (ILD) is celebrated every year on 8 September to highlight the importance of literacy to individuals, communities and societies. The 2018 theme "Literacy and skills development" explores and highlights integrated approaches that simultaneously can support the development of literacy and skills, to ultimately improve people's life and work and contribute to ..
Topics: Academic disciplines • Information literacy • International Literacy Day • Linguistics • Literacy • Reading • World Literacy Foundation