Page-2 of
Genetically modified crops Current Affairs, GK & News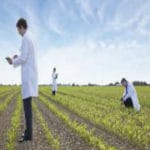 According to the International Service for the Acquisition of Agri-Biotech Applications (ISAAA) latest 'Global Status of Commercialized Biotech/ GM Crops in 2017' report, India with 11.4 million hectares (mh) has world's fifth largest area cultivated under genetically modified (GM) crops in 2017.  India's entire GM crop area is under single crop BT Cotton incorporating genes ..
Month: Current Affairs - July, 2018
Topics: Agriculture • Brazil • Genetically modified crops • GM Crop area • Science and Technology • Transgenic crops • US
Hybrid variety of a crop is obtained by crossing of two genetically diverse plants of same species and it can give higher yields than their parents. But mustard cannot be naturally hybridised because it is a self-pollinating plant having both male and female reproductive parts in a single flower. But researchers have created hybridised mustard using GM ..
Topics: Barnase • Barstar • Biotechnology • Branches of biology • Brassica • DMH-11 Mustard • Genetic engineering • Genetically modified crops • Life sciences • Molecular biology • Monsanto
Dr. Pushpa Mittra Bhargava (89), the veteran molecular biologist and a vehement critic of genetically modified crops, has passed away in Hyderabad on August 1, 2017. He headed the Centre for Cellular and Molecular Biology in Hyderabad, India when the government first set it up. He was a well-known critic of Indian governmental policies and ..
Topics: Bhargava • Centre for Cellular and Molecular Biology • Genetically modified crops • Historical geography • Hyderabad • India • National Knowledge Commission • Pushpa Mittra Bhargava • Science and technology in India
A Parliamentary Panel asked the government to put a halt on all field trials and demanded bar on Genetically Modified (GM) food crops. The committee sought probe into how permission was given to commercialize Bt. Brinjal seed when all evaluation tests were not carried out. The Panel criticized the government for not discussing the matter ..
Month: Current Affairs - August, 2012
Topics: Biotechnology • Branches of biology • Cotton • Emerging technologies • Genetic engineering • Genetically modified brinjal • Genetically modified crops • Genetically modified food controversies • Genetically modified organism • Life sciences • Molecular biology