New Routes for Inland waterway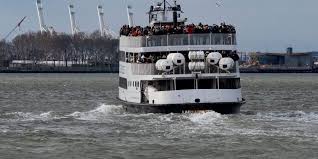 The Government of India recently identified new routes for ferry services through inland waterways. This is being done to promote coastal shipping and boost tourism.
About the New Routes
The new routes include Hazira, Somnath temple, Okha and Jamnagar. Also, destinations along the international routes have also been identified under the Sagarmala Project. The Sagarmala project aims to promote port led development in the country by using the 7,500 km long coastline.
Around six international routes have been identified. These routes include four international destinations such as Seychelles, Chattogram of Bangladesh, Madagascar and Jaffna of Sri Lanka.
Key Features
The Ministry of Ports, Shipping and Waterways has planned to replicate the success of the RO-PAX Vessel service that was recently launched between Ghogha and Hazira.
The main objective of finding new routes is to supplement mode of transportation. This will not only boost tourism but also be beneficial to daily commuters and cargo transportation. Also, inland waterways help to reduce carbon footprint largely.
Water Transport in India
The Inland Waterways Authority of India has planned to increase the cargo handling capacity of the country to 100 million tonnes by 2021-22. In 2017-18, it was 55 million tonnes. It increased to 72 million tonned in 2018-19.
Currently, the cost of water transport in India is 50 paise per kilo metre. It is Re 1 per kilo metre in Railways and Rs 1.50 per kilometres by roads. However, costs of waterways in India are 18% higher than the cost in China and 8% to 10% higher as compared to European Union. Also, the freight transport by waterways in under utilized in India as compared to that of other countries such as China, United States and European Union. The Freight cargo movement by inland waterways is 0.1% as compared to 21% in United States.
The National Waterways Act, 2016 was passed that proposed 106 additional National Waterways in the country.
Tags: Freight • Inland Waterways • Inland Waterways Authority of India • Jaffna • National Waterways
Month: Current Affairs - December, 2020