India's State of Forest Report 2021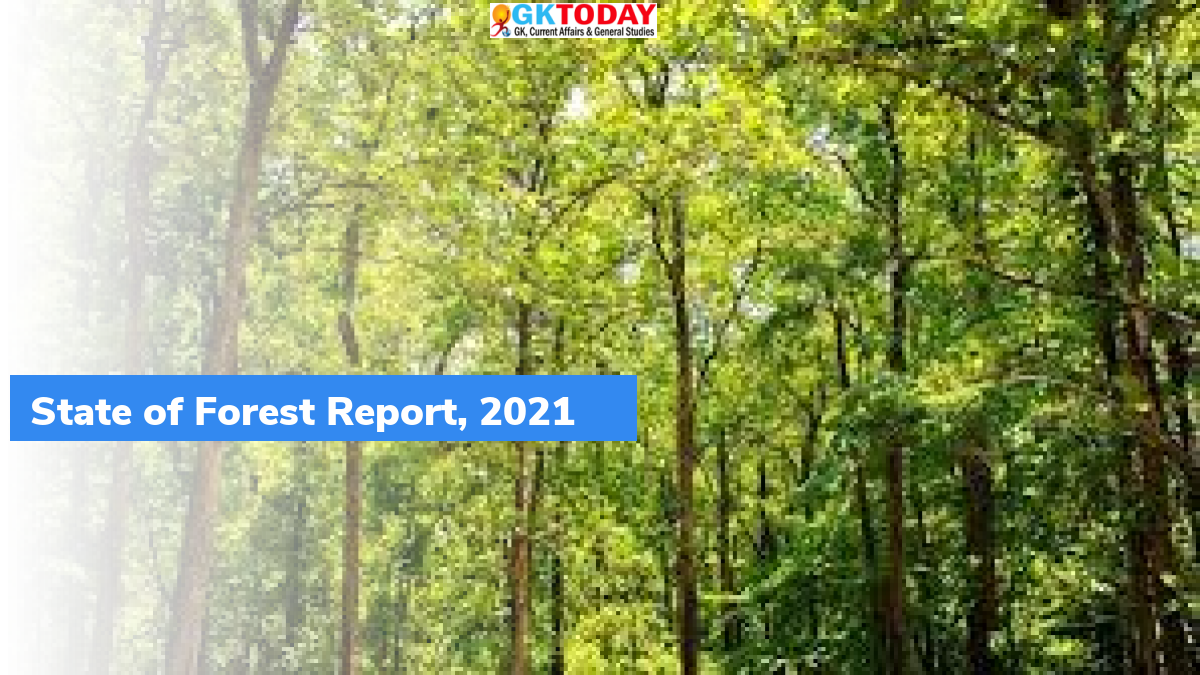 The Ministry of Environment, Forest and Climate Change recently released the State of Forest Report 2021. It is called the ISFR, 2021. The report says that there has been a continuous growth of forest cover in India. The current forest cover of India is 7,13,789 square kilometres.
Increase in Forest Cover
In the last two years, the forest and tree cover has increased by 1,540 square kilometres.
Around 21.71% of the land area is under forest cover. In 2019, it was 21.67%.
Tree cover in the country has increased by 721 square kilometres. Tree cover is the patches of trees in the land size less than one hectare. They occur outside forest area.
State – wise forest cover
Telangana has shown the highest increase in forest cover of all the states. Here the forest cover has increased by 3.07%. Followed by Telangana, in Andhra Pradesh, the forest cover has increased by 2.22%. At the third place is the state of Odisha. In Odisha, the forest cover has increased by 1.04%. The increase in these states is due to agroforestry and plantation.
The states with forest loss were Manipur, Arunachal Pradesh, Nagaland, Mizoram, Meghalaya.
The state with highest forest cover is Madhya Pradesh. It was followed by Arunachal Pradesh, Chhattisgarh, Odisha and Maharashtra. This ranking is area – wise, that is, states holding largest amount of forest land.
The states with highest percentage of land cover of forest were Mizoram, Arunachal Pradesh, Meghalaya, Manipur and Nagaland. This is percentage of forest land in the total land area of the state.
Mountainous states
Jammu and Kashmir lost very dense forest. It now has 4,155 square kilometres of very dense forest. In 2019, it had 4,270 square kilometres of very dense forest.
The state of Himachal Pradesh forest area has increased by 9 square kilometres. However, the moderately dense forest in the state has decreased.
The Himalayan states such as Himachal Pradesh, Jammu and Kashmir, Ladakh and Uttarakhand are to record maximum increase in temperature mainly due to forest cover loss.
The north eastern states are to face extreme rainfall due to forest cover loss.
Mangroves
They have increased by 17 square kilometres. The total mangrove cover in India is 4,992 square kilometres.
Forest Fires
In India, 35.46% of forest cover is prone to forest fires. Of this, 11.51% are highly prone, 7.85% are very highly prone, 2.81% are extremely prone.
Climate Change
45% to 64% of forests in India are to experience climate change by 2030. The highly vulnerable climate hot spots are all forests except those in Tripura, Meghalaya, Assam and Nagaland. Of all the forest areas, Ladakh will be affected the most.
Carbon Stock
The forests of India currently hold 7,204 million tonnes of carbon. This is referred to as forest carbon stock. FOREST CARBON STOCK OF INDIA = 7,2014 million tonnes.
The carbon stock is the atmospheric carbon that is currently sequestrated (held or stored or captured). If the forests are destroyed, they will be released to the atmosphere.
Bamboo Forest
The bamboo forest cover is 53,336 million stems or culms. It was 13,882 million stems in 2019.
Decline in Natural Forest
The moderately dense forests have decreased by 1,582 square kilometre. These are the natural forests. However, the scrub area has increased by 5,320 square kilometre. This means the forest areas in these regions are replaced by scrubs. This is an indicator to decline in forest area.
The very dense forest has increased by 501 square kilometres.
Decline in North East Forest Cover
The overall forest cover in this region has declined by 1,020 square kilometres. This is mainly due to shifting agriculture, felling of trees, developmental activities.
New Features of ISFR, 2021
For the first time, the ministry has included tiger corridors, tiger reserves and Gir forest.
Tiger Reserves and Corridors
In the tiger corridors, the forest cover has increased by 37.15 square kilometre. This increase happened between 2011 and 2021. It is 0.32%.
In tiger reserves, the forest cover has decreased by 22.6 square kilometres. This is 0.04%.
Between 2011 and 2021, forest cover has decreased in 32 tiger reserves and increased in 20 tiger reserves.
The tiger reserves showing increase in forest cover are Anamalai Tiger reserve in Tamil Nadu, Indravati Tiger Reserve in Chhattisgarh, Buxa Tiger Reserve in West Bengal.
The tiger reserves showing the highest loss in forest cover are Sunderbans tiger reserve in West Begal, Kawal tiger reserve in Telangana and Bhadra Tiger Reserve in Karnataka.
Definitions
Forest Area: It is the legal status of the land
Forest Cover: Presence of trees in the land
Very Dense Forest: Canopy Density>70%
Moderately Dense Forest: Canopy density – 40% to 70%
Open Forest: Canopy density – 10% to 40%
Scrubs: Canopy density – less than 10%
Canopy: It is the uppermost branch of the trees. They form continuous layer of foliage.
What does the forest survey cover?
It covers "recorded forest area" and also other forest cover irrespective of ownership and land use. Recorded Forest area covers forests that are included in government records only. The forest survey includes other forest covers apart from the recorded forest area. This may be private forest land, tea estates, teak plantations, etc.
Month: Current Affairs - January, 2022
Category: Environment Current Affairs • Reports & Indexes Current Affairs