What is Commodity Super Cycle?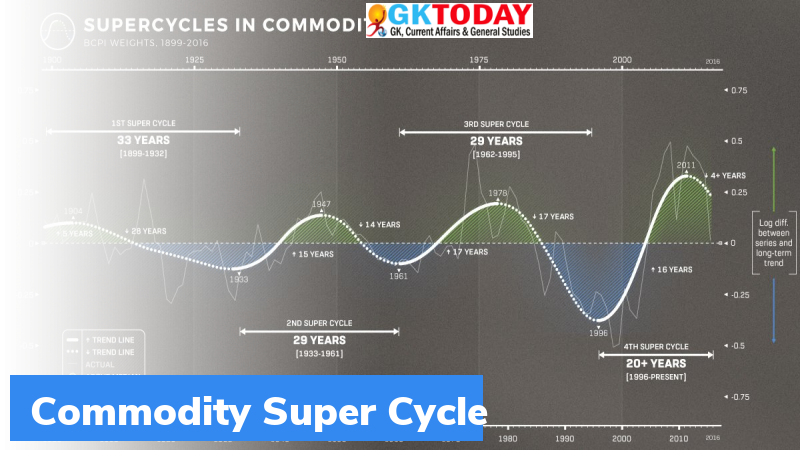 The prices of commodities from corn to crude oil to rubber, rhodium, copper, soy bean has been increasing since the beginning of 2021. This is referred to as Commodity Super Cycle.
Commodity Super cycle
Since the beginning of nineteenth century there has been four Commodity Super Cycle.
The first Commodity Super cycle started in the late 1890s as the United States entered into rapid industrialisation and urbanisation.
The second Commodity Super Cycle started when the weapon demand due to first world war increased exponentially. It peaked in 1917.
The third commodity Super Cycle started as Europe and its allies got involved in the Second World War completely. The resources required for the war were huge. Th cycle peaked in 1951. As it took time for the post-war growth, the cycle lasted a while and peaked in 1951.
The third cycle started in early 1970s. As economic growth has been constantly increasing post world war II, the demand increased. However, supply was disrupted as countries nationalised extraction industries.
The recent Commodity Super cycle started when China joined the World Trade Organisation in 2000. The rapid industrialisation in China forced mass migration of workers to the cities. As China started to spend more and more on infrastructure, it started to become the top consumer of most of the commodities. This fourth cycle was interrupted by the 2008 Financial Crisis. After this, the prices again started increasing. Now, COVID crisis is accelerating this.
Current Scenario
The steel prices have increased by 265% in 2020-21 as compared to that of 2019-20.
The prices of copper have hit an all-time high since 2011.
Also, the prices of palm oil, coffee, soy bean oil has been increasing.
Impact on India: India currently has taken up huge infrastructural plan. The sharp rise in prices of steel and cement at this point of time will affect plans of India. Apart from this, as India is marching towards self-sufficiency, the rest of the price rise will not affect India. However, oil price rise will of course be of huge concern!
What is causing the current Commodity super Cycle?
Recovery in global demand
Supply side constraints
Loose Monetary policy of global central banks
What will be the effect of Commodity Super Cycle?
It will increase input cost pressures.
What is the effect of US Dollar on the current Commodity Super Cycle?
The US Dollar has been steadily depreciating and aiding to the Commodity Super Cycle. The USD has been on depreciating path since 2001. It touched to the lowest levels in 2008 when the oil prices hit all-time high.
Why is depreciating USD increasing Commodity Super Cycle?
Or why is a depreciating USD increasing commodity prices. The raw materials are usually priced in USD. Thus, a depreciating USD means a producer has to adjust prices upwards to balance the higher production cost in local currency.
Concept In Simple Terms
Let us assume that a person is importing crude oil from US and refining it here in India. He will then sell petrol, diesel, etc in India.
Note: Cost of 1 barrel of oil is 65 USD now (approximately). 1 Barrel of oil is 159 litres or 42 US Gallons.
Assume that he pays 60 USD for 1 barrel of oil. Now USD depreciates. This means that he has to pay 70 USD for 1 barrel of oil. This means that the cost of his raw material has increased. So his production cost will increase and eventually the price of end product increases.
Month: Current Affairs - May, 2021
Category: Economy & Banking Current Affairs
Topics: China • Currency depreciation • industrialisation • Inflation • Trade Deficit • Urbanisation • US Dollars • USA • world war
Latest E-Books