AMPHEX 21: A Tri-Services Exercise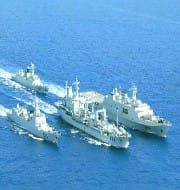 The Indian Armed forces conducted a large-scale tri-service joint amphibious exercise AMPHEX – 21 in Andaman and Nicobar group of islands in between 21 to 25 January 2021.
Highlights
In this exercise, the Naval ships, amphibious troops of the Army and different types of aircraft from the Air force participated.
The exercise was conducted with the aim of validating India's capabilities to safeguard the territorial integrity of the island territories.
The exercise was also aimed at enhancing the operational synergy and joint warfighting capabilities between the three Services.
In the exercise there were a series of engagements ranging from the multi-faceted maritime operations by synergised employment of amphibious assault ships, execution of maritime airstrikes, surveillance platforms and complex manoeuvres at sea.
The exercise also involved the Airborne insertion of Marine Commandos of Navy and Special Forces of the Army, naval gunfire support, the amphibious landing of forces and follow-on operations.
Exercise KAVACH for the defence of Andaman & Nicobar Islands was also the part of AMPHEX – 21.
Exercise KAVACH
It is also a tri service Military exercise. The exercise was conducted along with the AMHEX-21 in January 2021. The exercise was conducted under the aegis of the Andaman and Nicobar Command (ANC) which happens to be the only Joint Forces Command of India. The exercise was participated by the Indian Army, Indian Navy, Indian Air force and the Indian Coast Guard. It involves the synergised application of maritime surveillance assets, air and maritime strikes besides the air defence, submarine and landing operations. This exercise was conducted with the aim of set up the joint war-fighting capabilities and the Standard Operating Procedures (SOPs) so as to boost the operational synergy between all the services.
Significance of such exercises
Such exercises help in keeping the check on the preparedness of all the agencies to deal with any threat and enhance the coastal security. These exercises become more significant in the light of 1993 Bombay Bombings and the 2008 Mumbai Attacks that took place because of unsecure maritime border.
Month: Current Affairs - January, 2021