6th Indian Ocean Conference (IOC)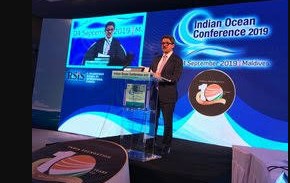 The eagerly anticipated sixth international Indian Ocean Conference is just around the corner, scheduled to commence on May 12. This significant event aims to bring together high-level representatives from 25 countries to deliberate on the theme of "Peace, Prosperity, and Partnership for a Resilient Future."
Inauguration by Bangladesh Prime Minister
The conference will be inaugurated by Bangladesh's Prime Minister, Sheikh Hasina, who will also host a dinner in honor of the conference attendees. With her esteemed presence, the event sets the stage for meaningful discussions and collaborations among participating nations.
Expected Delegates
Approximately 150 delegates are anticipated to attend the conference. This diverse group of representatives will consist of diplomats, ministers, and other key individuals, collectively fostering a conducive environment for constructive dialogue and cooperation.
Influence of the Russia-Ukraine War
The ongoing Russia-Ukraine war has played a significant role in shaping the conference's theme. The post-Covid situation and this geopolitical conflict have highlighted the need for concerted efforts towards building a resilient future in the Indian Ocean region.
The Role of India Foundation
The India Foundation, in collaboration with the Bangladesh Ministry of Foreign Affairs, has undertaken the responsibility of organizing this esteemed conference. The foundation has been instrumental in creating a platform for critical states and maritime partners in the region to engage in meaningful discussions about regional cooperation.
Visit to the Bangabandhu Memorial Museum
As part of the conference's agenda, participating ministers will have the opportunity to pay their respects to Bangladesh's Father of the Nation, Bangabandhu Sheikh Mujibur Rahman, at the Bangabandhu Memorial Museum. This visit symbolizes the acknowledgment of the nation's history and the legacy of its visionary leader.
Significance of the Indian Ocean Conference (IOC)
The IOC, initiated in 2016, has emerged as a flagship consultative forum for nations in the Indian Ocean region. It serves as a common platform for critical states and principal maritime partners to deliberate on regional affairs, aiming to foster Security And Growth for All in the Region (SAGAR).
Tags: Bangladesh • India Foundation • Indian Ocean Conference • Indian ocean region • Security and Growth for All in the Region)
Month: Current Affairs - May, 2023
Category: International / World Current Affairs