Balikatan Drills between the US and the Philippines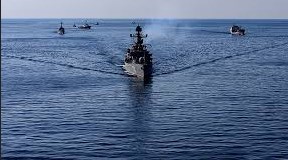 The Balikatan drills are annual military exercises conducted between the United States and the Philippines. The name "Balikatan" is derived from the Tagalog word "shoulder-to-shoulder," reflecting the strong partnership between the two countries.
Involvement and Types of Exercises
More than 17,600 military personnel are involved in the Balikatan drills, with about 12,200 from the US and 5,400 from the Philippines. The drills involve various exercises, including live-fire exercises and a boat-sinking rocket assault. The drills are aimed at enhancing the interoperability and readiness of the US and Philippine armed forces.
Weapon Systems and Live-Fire Drills
The Balikatan drills showcase a range of advanced weapon systems, including Patriot missiles, Himars rocket launchers, and anti-tank Javelins. The live-fire drills during the exercises are aimed at bolstering the Philippines' coastal defenses against external threats.
The Spratlys Archipelago
The Spratlys archipelago is a hotly contested area in the South China Sea. It is claimed by China, the Philippines, Vietnam, Malaysia, Brunei, and Taiwan. The Balikatan drills have been conducted in this region to promote regional stability and deter aggression.
China's Response
China has expressed its concerns over the Balikatan drills, as it considers the South China Sea and the Taiwan Strait as its own territory. The drills have the potential to inflame tensions in the region, which China claims as part of its sovereign territory.
USS Milius Deployment
The US 7th Fleet's deployment of guided-missile destroyer USS Milius within 12 nautical miles of Mischief Reef was aimed at challenging China's expansive territorial claims in the South China Sea. This deployment was part of the US' efforts to maintain a free and open Indo-Pacific and uphold international law in the region.
2014 Defense Pact
The 2014 defense pact between the US and the Philippines allows for rotating batches of American forces to stay in more Philippine military camps. This pact has been critical in enhancing the US-Philippine defense cooperation and maintaining peace and stability in the region.
Tags: Bilateral Exercise • Indo-Pacific • Indo-Pacific Region • South China Sea • United States
Month: Current Affairs – April, 2023
Category: Defence Current Affairs