Australian Great Barrier Reef rodent: first mammal species wiped out by human-induced climate change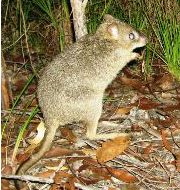 Australian Great Barrier Reef rodent (also known as Bramble Cay melomys) has become the first mammal species driven to extinction by human-induced climate change.
It was revealed after researchers in extensive survey (searches) failed to find a single specimen from its only known habitat on a sandy island in far northern Australia.
The extensive survey in the hope of conserving the species was conducted by Scientists from the University of Queensland, after a study in 2014 found no sign of the species.
Reasons for Extinction
The main reason for extinction Bramble Cay melomys is anthropogenic climate change.
The climate change caused in ocean inundation (due to sea rise) of the low-lying cay areas of their habitat over the last decade resulting in dramatic habitat loss.
About Bramble Cay melomys
Bramble Cay melomys is a small rat-like (rodent) animal species in the family Muridae.
It is Great Barrier Reef's only endemic (found nowhere else) mammal species.
It was mainly found in a small coral cay called Bramble Cay located off the north coast of Queensland in the Torres Strait between Australia and Papua New Guinea.
Their coral cay habitat was only 340m long and 150m wide and was 3m above sea level.
It was first discovered in 1845 on the cay by Europeans who shot the "large rats" for sport.
The last known sighting of this species was in 2009 by a professional fisherman.
Tags: Bramble Cay melomys • Climate change • Current Affairs - 2017 • Current Affairs 2016 • Environment
Month: Current Affairs - June, 2016
Latest E-Books