UNESCO lists Swiss-French architect Le Corbusier's works among World Heritage Sites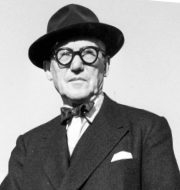 The United Nations Educational, Scientific and Cultural Organization (UNESCO) has listed Swiss-French architect Le Corbusier's works among its World Heritage Sites list.
In this regard, announcement was at the 40th session of the World Heritage Committee (WHC) of UNESCO held in Istanbul in Turkey.
Le Corbusier works were added in the list in recognition of his contribution in spearheading the modern architectural movement after World War I, with an emphasis on functionality, bold lines and materials such as concrete, iron and glass.
His 17 sites across spread across seven countries France, Switzerland, Belgium, Germany, Argentina, Japan and India have been added in the World Heritage Sites list.
About Le Corbusier
Born on October 6, 1887. Died on August 27, 1965.
He was Swiss-French architect, urban planner, designer, painter, writer, and one of the pioneers of what is now called modern architecture.
His architectural career spanned five decades, with his buildings constructed throughout Europe, India, and the Americas.
Famous Works: Some of his architectural masterpieces included in the World Heritage Sites list are La Cite Radieuse housing project in Marseille, Dominican monastery of La Tourette near Lyon and La Villa Savoye near Paris.
Corbusier also had prepared the master plan for the city of Chandigarh in India and contributed specific designs for several buildings including Chandigarh's Capitol Complex.
Tags: Honours • Le Corbusier • World Heritage Sites
Month: Current Affairs - July, 2016