Page-5 of
Satellite Current Affairs, GK & News
China has successfully launched a space rocket from sea for the first time and became the third nation to successfully demonstrate the ability to launch satellites into orbit from a floating platform after Russia and United States. The China National Space Administration (CNSA) has announced that a Long March 11 rocket was launched from a ..
Topics: Comparison of Asian national space programs • Long March • Outer space • Satellite • Spacecraft • Spaceflight
A Japanese aerospace startup Interstellar Technology Inc. has become the first private firm in Japan to launch a rocket into space. It has successfully launched a small rocket 'Momo-3' from its test site in Hokkaido, which reached about 110 kilometers (68 miles) in altitude before falling into the Pacific Ocean after 10 minutes of flight ..
Topics: Gunpowder • Interstellar Technologies • Momo • Outer space • Rocket • Rocket-powered aircraft • Satellite • Space industry • Space program of Japan • Spaceflight • Takafumi Horie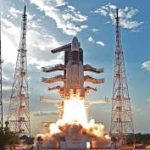 The Indian Space Research Organisation (ISRO) announced its plans to launch its latest radar imaging reconnaissance satellite 'RISAT 2BR1' towards the end of May 2019. Its launch was earlier scheduled in 2020 after RISAT-2A but is now preponed. About Launch The RISAT (radar imaging satellite), will be carried by PSLV-C46. It is one of the ..
Month: Current Affairs - May, 2019
Category: Science & Technology Current Affairs
Topics: Andhra Pradesh • Defence • ISRO • PSLV-C19 • PSLV-C46 • Radar Imaging Reconnaissance Satellite • riharikota • RISAT • RISAT-1 • RISAT-2BR1 • SAR) • Satellite • Satish Dhawan Space Centre • space • Synthetic Aperture Radars • UPSC
Nepal has launched its first satellite "NepaliSat-1" into space. The satellite was launched in the early morning (2:31 am) of Baishak 5, 2076 on 18th April, 2019. NepaliSat-1 satellite was launched by CygnusNG11 mission by NASA in Virginia, USA. This satellite will be carried to the International space station (ISS) as a cargo.
Topics: Canadian Space Agency • Commercial Resupply Services • Contents • International Space Station • NASA • Outer space • Satellite • Spacecraft • Spaceflight
Nepal has successfully launched its first satellite NepaliSat-1 into space from Virginia in the United States. The satellite was developed by the Nepalese scientists. NepaliSat-1 is a low orbit satellite which will be in the 400-km distance from the Earth's surface. It will be stationed at the International Space Station (ISS) for a month and ..
Topics: CubeSats • In Nepal • NepaliSat-1 • Raavana 1 • Satellite • Satellites • Science and technology in Nepal • Small satellite • Small satellites • Spacecraft • Spaceflight