Page-4 of
Satellite Current Affairs, GK & News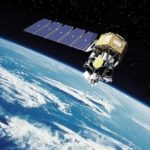 NASA (National Aeronautics and Space Administration) has launched a satellite called ICON or Ionospheric Connection Explorer to explore the mysterious, dynamic region where air meets space. The ICON satellite rocketed into orbit following a two-year delay and was dropped from a plane flying over the Atlantic off the Florida coast. About ICON (Ionospheric Connection Explorer) ..
Month: Current Affairs - October, 2019
Category: Science & Technology Current Affairs
Topics: ICON • Ionosphere • Ionospheric Connection Explorer • NASA • Northrop Grumman • Satellite
NASA has successfully launched the RamanSat 2 miniature satellite designed by 17-year-old Indian student Aabhaas Sikka. The satellite was developed by Sikka during his internship with SPACE India with help from SPACE Group Founder and CMD Sachin Bahmba along with the company's research team. It is carrying equipment to measure the radiation from Sun and ..
Topics: NASA • Satellite • Sikka
In March 2019 India had successfully test-fired an anti-satellite missile by shooting down a live satellite. The project named as Mission Shakti led by the Defence Research and Development Organisation (DRDO) was aimed at strengthening India's overall security. Mission Shakti DRDO-developed anti-satellite system (A-SAT) successfully destroyed a live satellite in the Low Earth Orbit. India ..
Topics: Anti-satellite weapon • Defence Research and Development Organisation • Geocentric orbit • Indian anti-satellite missile test • Litter • Low Earth orbit • Mission Shakti • Outer space • Satellite • Satellites • Space Debris • Spacecraft • Spaceflight
ISRO Chief, K Sivan has recently laid the foundation stone for Space Situational Awareness Control Centre (SSACC) at Peenya, Bengaluru. The aim of the control center is to monitor and protect high value space assets from space debris has been laid. The control centre will boost activities forecast for Space Situational Awareness and Management (SSAM), ..
Topics: Hazards • Indian Space Research Organisation • Nature • Radar networks • Satellite • Space Debris • Space Situational Awareness Programme
The Kessler syndrome is a condition in which any collision between the objects in space is likely to generate a cascade of multiple space collisions in the low Earth orbit (LEO). Each further collision would generate more space debris which would then cause further collisions between objects. Why is this dangerous? Every piece of satellite, ..
Topics: ISRO • Rocket • Satellite