Property Tax Current Affairs, GK & News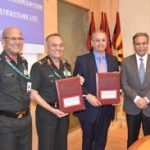 Rural development ministry of Maharashtra government announced exemption of Gram Panchayat property tax for all serving and retired soldiers in Maharashtra. The resolution has been issued on that matter. The moves have been taken to honor the soldiers who risk their lives, to save the country. Previously the recipients of defence gallantry awards were excluded ..
Month: Current Affairs - August, 2020
Category: India Nation & States Current Affairs • States Current Affairs
Topics: Government of Maharashtra • Gram Panchayats • Indian Army • Panchayati Raj • Property Tax
The term 'property' stands for tangible real estate owned by a person. It includes houses, office places, rented out properties etc. Taxes are the primary source of income of the government and they determine the kind and amount of resources being available to the people. Property tax is recognised across the world as property is ..
Topics: Current Affairs – July, 2017 • Economy • Intangible property • Law • Personal property • Property • Property law • Property Tax • Tax • Taxation in India • Taxation in the United States • Use tax
Capacity Cost is known as the fixed expenditure faced by a company to expand its business reach and its potential to spread its operations. This does not change as the levels of production change and can only be slashed when the business is shut or is outsourced. These costs are usually fixed in nature and ..
Topics: Insurance • inventory cost • lease payment • Production level • Property Tax • rental payment
In India municipal corporations or urban local bodies (ULB's) levy two types of taxes viz. Property tax and Professional tax.  Property tax is an annual amount paid by a land owner to the municipal corporation of his/her area. The municipal corporation assesses and imposes the property tax annually or semi annually. The amount is generally ..
Topics: Panchayati Raj • Property Tax • Urban Local Bodies
There are different types of direct taxes such as Income Tax, Corporate Tax, Inheritance Tax, Property Tax, Wealth Tax (abolished now in India), Capital Gains Tax etc. Merits The key merits of the direct taxes are as follows: Progressive Tax The direct taxes follow the principle of 'ability to pay' because they are levied on ..
Topics: Inheritance Tax • Progressive Taxation • Property Tax • Wealth Tax