Organ systems Current Affairs, GK & News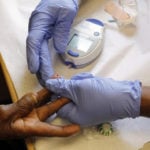 The International Diabetes Federation (IDF) has released latest figures that highlight the alarming growth in the prevalence of diabetes around the world.  These figures were published on the 14 November, World Diabetes Day in the ninth edition of the IDF Diabetes Atlas.  It shows that Pakistan is now in the top 10 countries for an ..
Topics: Diabetes • Epidemiology of diabetes • International Diabetes Federation • Medicine • Organ systems • RTT • Type 1 diabetes • World Diabetes Day
The World Stroke Day  (WSD) is observed every year on 29th October to raise awareness and reduce the incidence of stroke across the world. A stroke is a disease that affects the arteries of the brain. Whenever an artery carrying oxygen and nutrients to the brain gets obstructed by a clot or ruptures – the ..
Topics: Blood vessel disorder • Hematology • Ischemia • Medical specialties • Medicine • Organ systems • Paralysis • RTT • Stroke • Thrombosis • Thrombus • Vascular diseases
The International Osteoporosis Foundation observes the World Osteoporosis Day (WOD) every year on October 20th to raise global awareness on prevention, diagnosis and treatment of osteoporosis and metabolic bone disease. The 2019 theme is 'Love your bones and Protect your future'.
Topics: Aging-associated diseases • Anatomy • Bone • Endocrine diseases • International Osteoporosis Foundation • Metabolic bone disease • Musculoskeletal system • Organ systems • Osteopathies • Osteoporosis • Skeletal disorders • World Osteoporosis Day
The World Vitiligo Day (WVD) is observed every year on June 25 to raise awareness about the condition. The 2019 theme 'The Quality of Life of a Vitiligo Patient' focuses on mental and medical journey of vitiligo. Vitiligo is an autoimmune disorder wherein the immune system of the body attacks the healthy cells and in ..
Topics: Biological pigment • Biology • Branches of biology • Human skin color • Melanin • Melanocyte • Organ systems • PUVA therapy • RTT • Vitiligo • White • World Vitiligo Day
The International Albinism Awareness Day (IAAD) is observed every year on June 13 to celebrate the human rights of persons with albinism worldwide. The 2019 theme is "Still Standing Strong". This is a call to recognize, celebrate and stand in solidarity with persons with albinism around the world, and to support their cause – from ..
Topics: Albinism • Albinism in humans • Biology • Branches of biology • International Albinism Awareness Day • Mwaura Isaac Maigua • Nystagmus • Organ systems • Photophobia