Page-2 of
Extreme poverty Current Affairs, GK & News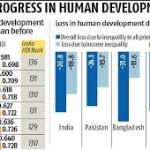 The rank of India among 189 countries in the Human Development Index has improved for the year 2019. Last year, India ranked at number 130th. About 30 years of rapid development was the reason behind the improvement. According to experts: About 27.1 crore people had been relieved from poverty in a decade (from 2005-06 to ..
Topics: Academic disciplines • Aid • Demography • Environmental social science • Extreme poverty • Life expectancy • Poverty
Over 19 million children lives are at stake due to environmental disasters. The UNICEF said on Friday that the climate change is deepening its roots in the poorest communities. In Bangladesh, climate change has the potential to destroy the efforts made by the government to protect its people in seconds. As many children live in ..
Category: Environment Current Affairs
Topics: Bangladesh • Bay of Bengal • Brahmaputra River • Climate change adaptation in Bangladesh • Extreme poverty • Floods in Bangladesh • Ganges • Geography of Asia • Rivers • Rohingya people
UNICEF has announced that environmental disasters referring to climate change have threatened the lives of around 19 million children in Bangladesh. Climate change has laid adverse effects and environmental threats faced by Bangladesh's poorest communities families, leaving them unable to keep their children properly housed, fed, healthy and educated. Climate change has the potential to ..
Category: Environment Current Affairs
Topics: Climate change • Climate history • Climatology • Environmental justice • Extreme poverty • Global warming • Physical geography
According to the 2018 global Multidimensional Poverty Index (MPI), India has reduced its poverty rate drastically from 55% to 28% in 10 years between 2005-06 and 2015-16. The report, covering 105 countries, dedicates a chapter to India because of this remarkable progress. In India, a total of 271 million (27.10 crore) people moved out of ..
Topics: Economics • Economy • Extreme poverty • International development • Multidimensional Poverty Index • Oxford Poverty and Human Development Initiative • Poverty • Poverty in India
The International Day for the Eradication of Poverty is observed every year on October 17 to recognize the struggles of the impoverished and to make their voices heard by governments and ordinary citizens. The 2018 theme is "Coming together with those furthest behind to build an inclusive world of universal respect for human rights and ..
Topics: Crime prevention • Dignity • Extreme poverty • Human behavior • Human rights • Human rights and development • Human rights in East Asia • Human rights instruments • Poverty • Poverty reduction • Universal Declaration of Human Rights