Pakistan conducts first flight test of Ababeel missile with MIRV technology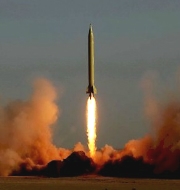 Pakistan successfully conducted the first flight test of Ababeel surface-to-surface medium range ballistic missile. The test flight was aimed at validating various design and technical parameters of missile's weapon system.
It is claimed that Ababeel missile has the capability to carry nuclear as well as conventional warheads and engage multiple targets with high precision by defeating the enemy's hostile radars.
Key Facts
Ababeel missile is capable of delivering multiple warheads, using Multiple Independent Re-entry Vehicle (MIRV) technology, first of its kind in Pakistan's missile arsenal. It has a maximum range of 2,200 kilometres.
The development of Ababeel Weapon System aims at ensuring survivability of Pakistan's ballistic missiles in growing regional Ballistic Missile Defence (BMD) environment in reference to the India's Prithvi and Ashwin BMD systems. It also seeks to further reinforce Pakistan's deterrence.
Comment
With this successful test, Pakistan became seventh country to join the elite club of nuclear countries that have MIRV capabilities.
Other countries having MIRV capabilities are United Kingdom, France, Russia, the United States, China and India. India and China had achieved this capability over the past couple of years.
The test comes after Pakistan successfully tested its first submarine-based nuclear-capable missile Babur-3 recently on January 9, 2017 from an underwater, mobile platform somewhere in the Indian Ocean.
The Babur weapons system incorporates advanced aerodynamics and avionics that can strike targets both at land and sea at a range of 700 km with high accuracy.
Tags: Ababeel missile • Defence • MIRV technology • missile technology • nuclear missile
Month: Current Affairs - January, 2017