One Planet Summit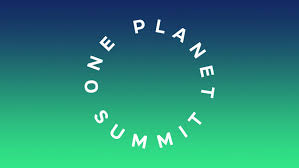 The One Planet Summit was held on January 11, 2021. The summit aims to advance the protection of nature.
What is One Planet summit?
The One Planet summit is an international event that focused on biodiversity to mobilize commitments to protect the ecosystems and make links to human health.
What is the aim of One Planet summit?
The One Planet Summit aims to promote worldwide ecological transformation. The summit will measure environmental and climate protection combined with innovation and economy.
What is the theme of One Planet Summit, 2021?
Let's act together for nature
Who organizes One Planet Summit?
United Nations, World Bank and France.
Why is One Planet Summit important?
The COVID-19 has reminded the importance of nature for our daily lives and economies. It is highly challenging to reverse trend set by the pandemic. The One Planet Summit will help to transform the value chains, consumption habits and business models.
With the global economic powers like the United States withdrawing from Paris Agreement, it is important for international organizations act swiftly. The One Planet Summit will help the world in this direction.
When was the first One Planet Summit held?
The first One Planet Summit was organised two years since the historic Paris Agreement. It then adopted twelve international commitments. They are as follows:
Responding to the Extreme Events in Island states
Protecting land and water against climate change
Mobilizing researchers and young people to work for the climate
Public procurement and access for local government to green financing
Zero emission targets
Sectoral shifts towards a decarbonized economy
Zero-pollution transport
Work towards a carbon price compatible with the Paris Agreement
Anchoring climate issues at the centre of decisions of financial actors
International mobilization of development banks
Commitment by sovereign funds
Mobilizing institutional investors
Month: Current Affairs - January, 2021