2016 ASEAN Summit held in Vientiane, Laos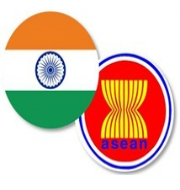 The 28th and 29th Association of Southeast Asian Nations (ASEAN) Summit was held in Vientiane, Laos from 6th to 8th September 2016.
Prime Minister of the Lao PDR H.E. Thongloun Sisoulith was Chairperson of the summit. The theme of the summit was "Turning Vision into Reality for a Dynamic ASEAN Community".
The summit was attended by the leaders of all 10-member nations of ASEAN viz. Indonesia, Malaysia, Philippines, Thailand, Singapore, Brunei Darussalam, Lao PDR (host), , Vietnam,  Myanmar and Cambodia.
India-ASEAN
Prime Minister Narendra Modi had represented India at the ASEAN summit at the 14th ASEAN-India summit.
ASEAN-India adopted a document aiming at politically cohesive, economically integrated, socially responsible and people oriented people centered ASEAN-India Community.
The document recognizes the vital importance of the planned review of the ASEAN-India Trade in Goods (AITIG) Agreement.
It seeks to ensure that the agreement is trade-facilitative and remains relevant to the current global trading practices.
The document also emphasizes the importance of maintaining peace, security and stability, unimpeded commerce, freedom of navigation in and overflight above the South China Sea.
Prime Minister Narendra Modi expressed deep concern over the rising export of terror in an apparent reference to Pakistan.
He also mentioned that export of terror is common security threat to the region and there was need for a coordinated response from the ASEAN member nations to combat it.
About Association of South East Asian Nations (ASEAN)
ASEAN is a group of 10 South Asian nations which came into existence on August 8, 1967 after ASEAN declaration (also known as Bangkok declaration).
It is a regional organisation comprising that aims to promote intergovernmental cooperation and facilitates economic integration amongst its members.
Principal aims: (i) Accelerating economic growth, social progress, and sociocultural evolution among its members, (ii) Protection of regional stability and the provision of a mechanism for member countries to resolve differences peacefully.
Motto: "One Vision, One Identity, One Community"
10 Members: Brunei, Cambodia, Indonesia, Laos, Malaysia, Myanmar, Philippines, Singapore, Thailand and Vietnam.
Founder countries of ASEAN: Malaysia, Indonesia, Singapore, Philippines and Thailand
Enlargement: The group was expanded by adding 5 more nations which are Brunei Darussalam, Lao PDR, Cambodia, Myanmar and Vietnam. Cambodia was the last entrant added in the group in 1999.
Tags: ASEAN • india-asean • India-International Relations • Laos
Month: Current Affairs - September, 2016
Latest E-Books