NASA launches OSIRIS-REx spacecraft to collect samples from Bennu asteroid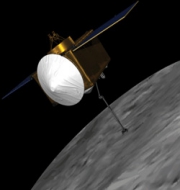 The National Aeronautics and Space Administration (NASA), a US space agency has launched OSIRIS-REx spacecraft to collect samples from an asteroid 101955 Bennu and return to Earth.
The spacecraft was launched onboard a United Launch Alliance (ULA) Atlas V rocket from Cape Canaveral Air Force Station.
Key Facts
OSIRIS-Rex stands for Origins, Spectral Interpretation, Resource Identification, Security-Regolith Explorer.
It is an unmanned spacecraft and NASA's first mission to collect samples from an asteroid and return to Earth.
OSIRIS-Rex will travel for two years on a journey to Bennu, a near-Earth asteroid about the size of a small mountain.
Primary aim of the mission: To study asteroid 101955 Bennu , a carbonaceous asteroid.
Also to return a sample at least 60 grams dirt and debris from its surface and return to Earth in 2023 for detailed analysis.
NASA scientists feel that the Bennu asteroid hold clues to the origin of the solar system and the source of water and organic molecules found on Earth.
Significance: Material returned from asteroid 101955 Bennu is expected to enable scientists to learn more about the formation and evolution of the Solar System.
Besides it will give insights of initial stages of planet formation and the source of organic compounds which led to the formation of life on Earth.
Note: OSIRIS-Rex is NASA's third planetary science mission selected in the New Frontiers Program, after Juno and New Horizons. 101955 Bennu is a carbonaceous asteroid in the Apollo group. It  was discovered in September 1999 by the LINEAR Project.
Tags: Bennu Asteroid • International • NASA • Science and Technology • Space technology
Month: Current Affairs - September, 2016