International Conference on Unani Medicine held in New Delhi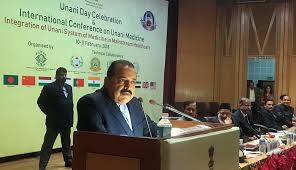 The International Conference on Unani Medicine was held in New Delhi. It was inaugurated by Minister of State (IC) for Ministry of Development of North Eastern Region, MoS PMO, Ministry of Personnel, Public Grievances and Pensions Dr. Jitendra Singh.
Key Facts
It was organised by Central Council for Research in Unani Medicine (CCRUM), under Ministry of AYUSH is organizing as part of celebration of Unani Day (February 11). The theme of the conference was Integration of Unani System of Medicine in main stream healthcare.
Various national level eminent personalities and stakeholders from academia, industry, regulators, and researchers in field of Unani Medicine participated in deliberations of conference. Besides delegates from countries like South Africa, Sri Lanka, Bangladesh, UK, China, US, Portugal, UAE, Slovenia, Israel, Hungary, Bahrain, Tajikistan, etc also participated in the conference.
The conference deliberated on issues related to globalization, research, standardization, quality control, safety assessment, and industry perspective. It also provided platform to academia, researchers, regulators, industry and students to develop visions, linkages and initiate projects that will help in promoting Unani system of medicine as one of the preferred systems of medicine across the globe.
Unani Day
The birthday of great Unani researcher Hakim Ajmal Khan i.e. 11th February is celebrated as Unani Day. Hakim Ajmal Khan was eminent Indian Unani physician who was versatile genius, freedom fighter, educationist and founder of scientific research in Unani Medicine. This year it was 150th Birth Anniversary of Hakim Ajmal Khan.
Unani system of medicine
Unani system of medicine is the term for Perso-Arabic traditional medicine as practiced in Mughal India and in Muslim culture in South Asia and modern day Central Asia. It had originated in Greece. Hippocrates is known as the father of this system of medicine. The term Yūnānī (Greek) means Perso-Arabic system of medicine. It was introduced to India in 13th century with the establishment of Delhi Sultanate and it took its own course of development during Mughal Empire after it was influenced by Indian medical teachings of Sushruta and Charaka.