INS Vajra commissioned to Indian Coast Guard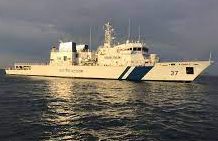 Indian Coast Guard Ship Vajra was commissioned to the Indian Coast Guard by Chief of Defence Staff, General Bipin Rawat, at Kattupalli in Chennai.
Key Points
INS Vajra was sixth in series of seven Offshore Patrol Vessel and was constructed by M/s Larsen & Toubro Ltd at Kattupalli. It is a 98-meter ship and is fitted with state-of-the-art Navigation & Communication Equipment, machinery and Sensors. It has been designed to carry one twin-engine helicopter and four high speed boats. It also carries two Rigid Hull Inflatable Boats for swift Boarding Operations. Vajra will be commanded by Deputy Inspector General Alex Thomas and is based at Tuticorin under the Operational and Administrative Control of Coast Guard District (Tuticorin).
Significance of INS Vajra
INS Vajra can be used in Search & Rescue operations, Law Enforcement and Maritime Patrol. The ship is also capable of carrying Pollution Response Equipment for oil spill response at Sea. It will be deployed to conduct surveillance in exclusive economic zones of Indian Coastal region.
Exclusive Economic Zone (EEZ)
EEZ is prescribed by United Nations Convention on the Law of the Sea, 1982. It is an area of sea in which sovereign state enjoys special or 'sovereign' rights of exploring & using marine resources and producing energy from water & wind. EEZ stretches from baseline to 200 nautical miles (nmi) from the coast of the state. It is also called as maritime continental margin. It does not include territorial sea or continental shelf beyond 200 nmi.
United Nations Convention on the Law of the Sea (UNCLOS)
It is an international agreement signed during third United Nations Conference on Law of the Sea during 1973 and 1982. The Convention defines rights and responsibilities of nations regarding the use of world's oceans, environment, establishing guidelines for businesses and management of marine natural resources. It came into effect in 1994. 167 countries and European Union have joined this Convention, as of 2016.
Tags: Exclusive Economic Zone (EEZ) • Indian Coast Guard • Indian Coast Guard Ship • INS Vajra • Offshore Patrol Vessel
Month: Current Affairs - March, 2021