India participates in the third Arctic Science Ministerial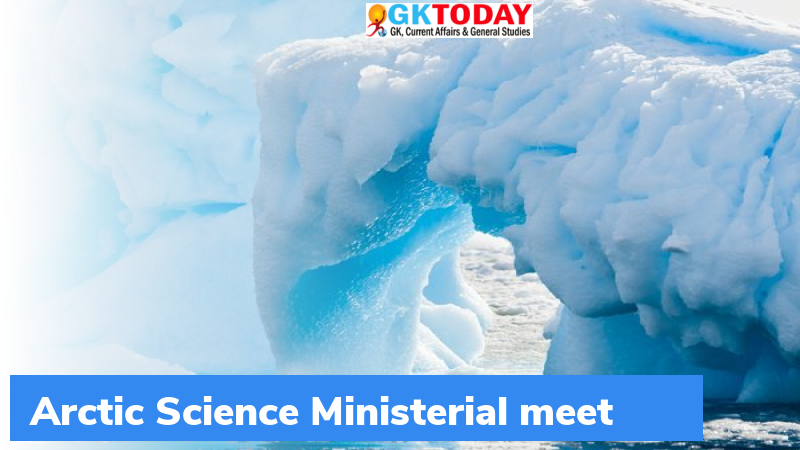 The Ministry of Earth Science recently announced that India participated in the Arctic Science Ministerial meeting. The Union Minister Dr Harsh Vardhan represented India at the meeting.
Outcomes
India shared plans for research and long-term cooperation in the Arctic during the meet.
India promised to continue its contributions to the Sustained Arctic Observational Network.
India also announced that it will deploy open ocean mooring in the Arctic for long term monitoring of upper ocean variables and marine meteorological parameters. Mooring is collection of devices connected to a wire and anchored to the sea floor.
India proposed to host the next or future Arctic Science Ministerial meet.
The theme of 2021 Arctic Ministerial Meeting was:
Theme: Knowledge for a Sustainable Arctic
Arctic Science Ministerial
The first two Arctic Science Ministerial meeting were held in USA in 2016 and in Germany in 2018.
This meeting that was held in 2021 was organised by Japan and Iceland and is the first meeting to be held in Asia.
It aims provide opportunities to various stakeholders such as governments, academia, policy makers to enhance collective understanding of Arctic region.
India in the Arctic Science Ministerial
India is an "Observer" in the Arctic Council since 2013.
Svalbard Treaty
India's engagement in the Arctic region started with the signing of Svalbard Treaty of Paris in 1920.
India constructed a permanent research station in the Arctic region in 2008. It is called Himadri. Himadri is located at NyAlesund, Norway.
In 2014, India deployed a multi sensor observer called IndARC in Kongfjiorden fjord in 2014.
The National Centre for Polar and Ocean Research, Goa coordinates and conducts the research in the Arctic region.
NISER
NISER is NASA-ISRO Synthetic Aperture Radar satellite mission. It aims to conduct global measurements of land surface changes using radar imaging. It is an ongoing project.
India's Arctic Policy
The recently released draft Arctic Policy document outlines five pillars of India's policy. They are as follows:
Development of Human Resource capabilities
Global governance and international cooperation
Economics and Human development
Scientific research
Connectivity
Month: Current Affairs - May, 2021