Punjab Prison Rules, 2021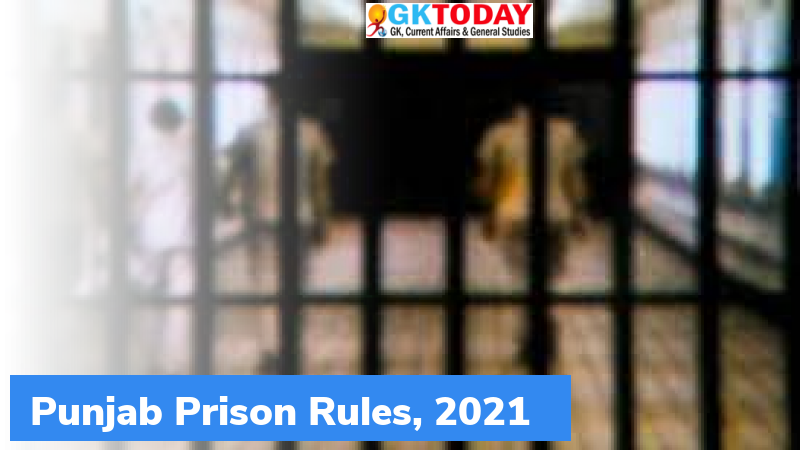 The Punjab Cabinet recently approved Punjab Prison Rules, 2021. These rules were approved under the Prison Act, 1894.
Background
The Punjab Jail Manual of 1996 has become archaic. There is a need to update it in the changed scenario of modernisation.
Punjab Prison Rules, 2021
New security parameters such as effective surveillance and safe custody have been introduced in the new rules. The other new rules introduced are as follows:
Prisons within Prisons
These are to be used for lodging high risk prisoners such as drug offenders, gangsters, radicals, terrorists.
Jail Employees
The Jail Employees are to get adequate provisions. This includes welfare funds, legal assistance, meal for employees during their shift, financial assistance, etc.
After Care Assistance
An "After Care Assistance" has been incorporated in the Punjab Prison Rules to ensure successful rehabilitation and social reintegration of released convict prisoners. This cover renting a house, assistance in employment, medical treatment, etc.
Modern Technologies
The rules include use of modern security and surveillance gadgets. This includes Artificial Intelligence enabled CCTVs, mobile jammers, motion sensors, alarm systems, siren, X-ray baggage scanner, body scanner, touch screen kiosks, etc. On the software side, the provisions such as E-wallet, E-procurement, Integrated Criminal Justice System are to be included.
Other Provisions
To ensure confinement of mentally ill prisoners under the Mental Health Care Act.
To provide better mental health care facilities such as psychotherapy.
To establish a Grievance Redressal System in every prison. Under this system, a compliant box will be installed at different locations in the prison.
Video Conferencing provisions have been included so that the inmates can talk to their families and friends and legal counsel face to face.
Prisoners Panchayat and Maha Panchayat to plan and execute daily recreational programmes.
Month: Current Affairs - May, 2021
Category: Legal & Constitution Current Affairs
Topics: CCTV • CCTV Surveillance • Grievance redressal • jail • mental health care • Prison • Prison Act of 1894 • Prison Reforms • Punjab Prison Rules
Latest E-Books