Page-4 of
Weapons Current Affairs, GK & News
On March 3, Prime Minister Narendra Modi inaugurated an Indo-Russian joint venture (JV) that will manufacture the new 7.62×39 mm caliber Kalashnikov AK-203 rifle in Korwa near Amethi, Uttar Pradesh. The Indo-Russia Rifles Pvt Ltd is a joint venture between India's Ordnance factory and a Russian firm. It will produce the last series of Kalashnikov ..
Topics: AK • AK-203 • AK-47 • Amethi • Firearms • Indo-Russia Rifles • INSAS rifle • Kalashnikov • Kalashnikov rifle • Personal weapons • Weapons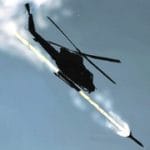 India has test-fired its helicopter-launched version anti tank missile 'Helina' from the Odisha coast near the Integrated Test Range in Chandipur in Balasore district on 8th February. The missile has been developed by DRDO and is one of the most-advanced anti-tank weapons in the world. About Helina It is a version of the Nag anti-tank ..
Topics: ALAS • Anti-tank guided missile • Defence Research and Development Organisation • Fire-and-forget • Guided missiles • Guided missiles of India • Ministry of Defence • Missile • Missile defense • Missiles • Nag • Weapons
The Intermediate-Range Nuclear Forces (INF) Treaty is a Cold War-era missile treaty that was a signed in 1987 between the United States and the Soviet Union. Signed by Ronald Reagan and Mikhail Gorbachev, the treaty barred both countries from deploying land-launched cruise missiles in the 500- to 5,500-km range. It was a key to ending ..
Topics: Ballistic missile • Cold War • Cruise missile • Firearms • Intermediate-Range Nuclear Forces Treaty • Mikhail Gorbachev • Missiles • Perestroika • Presidency of Ronald Reagan • Soviet Union • Weapons
On 19th January, Prime Minister Narendra Modi inaugurated the India'first Armoured Systems Complex (ASC) built by a private company – Larsen & Toubro (L&T) – at Hazira in Surat, Gujarat. This is the India's first private facility where the K9 Vajra self-propelled Howitzer guns will be manufactured. Spread over 40 acres within L&T's 755-acre Hazira ..
Topics: Artillery • Hazira • K9 • K9 Thunder • Larsen & Toubro • Self-propelled artillery • Self-propelled gun • Weapons
As per latest Swedish think tank Stockholm International Peace Research Institute (SIPTI) annual report, Russia has emerged as the world's second-largest arms producer after the United States. Russia surpassed Britain, which had held that spot since 2002 and remains Western Europe's No. 1 arms maker. According to the report on the world's 100 biggest armaments ..
Topics: Arms control • Arms industry • Arms trafficking • Countries • Industries • Russia • Weapons • Weapons trade • World