Page-2 of
Elections Current Affairs, GK & News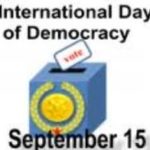 The International Day of Democracy 2019 was observed on September 15. The day is celebrated to promote the tenets of democracy. 2019: Theme The theme of the world democracy day 2019 is "Participation". Active participation of people is a key for the democracy to succeed. Article 21 (3) of the Universal Declaration of Human Rights states: "The ..
Topics: Democracy • E-democracy • Elections • Inter-Parliamentary Union • International Day of Democracy • Organization for Security and Co-operation in Europe • Parliamentary assemblies • Politics • Types of democracy • United Nations General Assembly observers • Universal Declaration of Human Rights
The Lok Sabha discussed and deliberated upon a private member's bill on the need for compulsory voting in India. The legislators on both sides of the aisle support have deliberated on the bill. The support for the bill is on both sides of the government but so is the opposition. What is Compulsory voting? Compulsory ..
Topics: Bills • ECI • Elections • Law Commission • Voting
What is the case? Priyanka Sharma, who is an activist of a political party, was arrested for sharing a morphed photo of West Bengal Chief Minister on Facebook. West Bengal Police arrested her based on the complaint which stated the photograph was against community guidelines, Kolkata's culture and it was an insult to the chief ..
Topics: Elections • Facebook • Free Speech • Justice • Supreme court • West Bengal
Often it is said that the root problem of trust deficit of opposition parties especially the regional parties towards Election Commission lies at the flawed system of appointment of Election Commissioners. The Root Problem The Election Commissioners are appointed unilaterally by the government of the day. The governments for long haven't paid heed to the ..
Topics: Collegium System • Election Commission • Election Commissioners • Elections • Law Commission of India
Often the first-past-the-post (FPP) system is criticised for being non-inclusive and the alternative proportional system is criticised as actually exacerbate polarisation. Hence an alternative in Ranked-choice based voting (RCV) system is being proposed. Features of the Ranked-choice based Voting System Under the RCV, instead of voting for only one candidate, a voter ranks the candidates in ..
Topics: Elections • First Past the Post System • Ranked-choice Based Voting System • Voting