Dinosaur Current Affairs, GK & News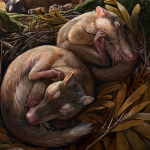 A recent study published in journal Science shows the missing link in the auditory evolution in mammals. Hearing among mammals is aided by 3 small bones in the ear called the hammer, anvil and the stirrup bones. These delicate bones were absent in the earlier reptilian ancestors. Scientists have now found the missing link in ..
Topics: Anatomy • Auditory system • Bone • Dinosaur • Ear • Evolution of mammalian auditory ossicles • Hearing • Mammal • Perception • Sensory systems • Synapsid
India's first dinosaur museum and fossil park has recently inaugurated by Gujarat Chief Minister Vijay Rupani at Raiyoli village near Balasinor town of Mahisagar district. The new museum will create a prehistoric-like era environment when dinosaurs might have roamed around freely in Raiyoli. As many as 50 sculptures of dinosaurs, including a life-size one of ..
Topics: Balasinor • Dinosaur • Dinosaur Museum • Gujarat • India • Indroda Dinosaur and Fossil Park • Mahisagar district • Organisms • Rajasaurus • Rupani • Taxa
A site containing the 220-million-year-old fossilized remains of nearly a dozen dinosaurs has been discovered in western Argentina. According to Argentinian paleontologist Ricardo Martinez of the University of San Juan, there are almost ten different individuals, with practically no sediment. The discovery is doubly important because there are at least 7 or 8 individuals of ..
Topics: Archosaur • Dicynodont • Dinosaur • Geological history of Earth • In paleontology • Mesozoic • Triassic