Resolution passed by Andhra Pradesh State Assembly to abolish the State's Legislative council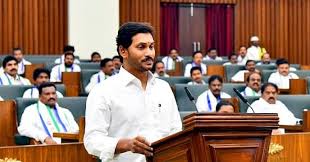 The state assembly of Andhra Pradesh on Monday, 27th January 2020 passed a resolution to abolish the state's legislative council. The decision was supported 151 members out of the total 175 members assembly, which includes 133 legislators of the ruling YSR Congress Party.
This decision is taken at the backdrop of the constant opposition faced in the upper house of the legislature, the Andhra Pradesh Legislative council. The main opposition party, Telugu Desam Party led by Chandrababu Naidu has 27 seats out of 58 in the council. It recently sent two bills related to the decentralization of Andhra Pradesh's capital to a select committee for further deliberation, after it was passed in the assembly. Now for abolishing the upper house of the state, once the lower house of a state passes a  resolution, it needs to be approved by the Central Cabinet before introducing it as a bill in the Parliament of India, which needs to be passed by both Lok Sabha and Rajya Sabha before becoming an Act.
Tags: Andhra Pradesh • Legislative Council • Lok Sabha • N. Chandrababu Naidu • Parliament
Month: Current Affairs - January, 2020