Pakistan floods: One third of the country is under water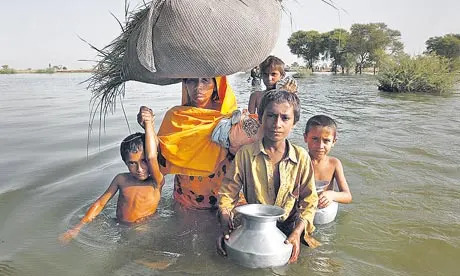 Pakistan is currently battling its worst monsoon floods in a decade, which has killed more than 1,100 people, caused more than USD 10 billion in damages and submerged nearly a third of the country. Also, the United Nations issued a USD 160 million flash appeal to help Pakistan deal with the floods.
Key Points
According to Pakistan's National Disaster Management Authority, more than 33 million people have been affected by this year's floods. It can be said that one in seven Pakistanis have been affected by this flood. This year's floods can be compared to the 2010 floods. It was the worst flood ever in which more than 2,000 people died.
The Swat Valley in Pakistan's northern Khyber Pakhtunkhwa province, where millions of people live, has been largely cut off from the rest of the country by damaged infrastructure and flood waters. Due to which the local residents are facing shortage of food and medicine.
Intermittent rains for weeks have flooded millions of acres of rich agricultural land, but now the Indus is threatening to break its banks as water streams flow north through tributaries.
Prices of basic goods – especially onions, tomatoes and chickpeas – are rising sharply as vendors are troubled by the lack of supplies from the flooded breadbasket provinces of Sindh and Punjab. Currently, the government has declared a state of emergency and appealed for international help. First aid flights from Turkey and UAE have started reaching Pakistan.
Prime Minister Narendra Modi has also expressed grief over the floods in Pakistan. Amidst the hope of Pakistan's help from India, now the discussion has started at the highest level in New Delhi that Pakistan should be given humanitarian aid.
Tags: Khyber Pakhtunkhwa province • monsoon floods • Pakistan • Punjab • Sindh
Month: Current Affairs - August, 2022
Category: International / World Current Affairs