Indian Navy joins Exercise in South China Sea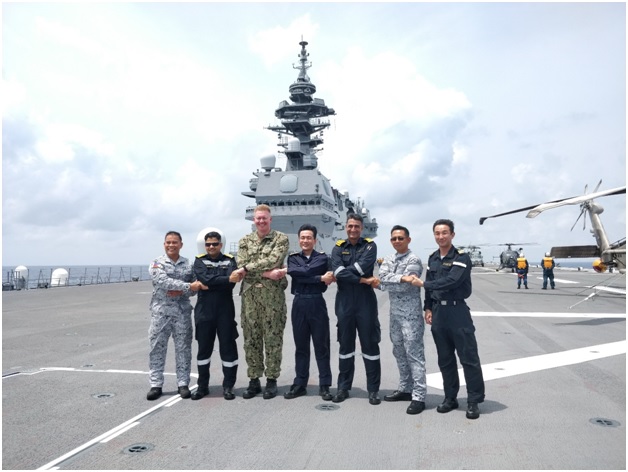 Two Indian Navy ships INS Kolkata and INS Shakti carried out a six day long 'Group Sail' (starting from 3 May and ending on 9 May) with naval ships of USA, Japan and Philippines in South China Sea (SCS).
About 'Group Sail'
Objective: It was aimed at deepening existing partnership and fostering mutual understanding among participating country's navies.
Participants: four countries namely, US, India, Japan and Philippines.
Naval Ships: six combatants from participating countries included India's INS Kolkata (Guided Missile Destroyer) and INS Shakti (Fleet Support Ship), Japna's JMSDF Izumo (Helicopter Carrier) and JMSDF Murasame (Guided Missile Destroyer), Philippines's BRP Andres Bonifacio (Frigate and offshore patrol vessel) and USA' USS Williams P. Lawrence (Arleigh Burke Class guided Destroyer).
Exercise Included: formation exercises, communication drills, passenger transfers, cross-deck flying, replenishment runs, and exchange of Sea Riders.
Importance: It showcased India's commitment to enhance interoperability with like-minded countries for ensuring safe maritime environment.
NOTE:
Indian Navy ships (INS Kolkata and INS Shakti) were on return passage from their deployment to South and the East China Seas as part of annual Eastern Fleet Overseas Deployment (in pursuance of India's Act East policy) during which they visited Vietnam, China and South Korea.
In China, ships took part in International Fleet Review (IFR) as part of 70th anniversary celebrations of China's People's Liberation Army, PLA (Navy).
Later on departing from South Korea, ships participated in Opening Ceremony (Phase I) of Maritime Security (MS) Field Training Exercise (FTX) under aegis of ASEAN Defence Ministers' Meeting Plus (ADMM-PLUS).
Tags: ADMM Plus • ASEAN Defence Ministers' Meeting Plu • BRP Andres Bonifacio • Eastern Fleet Overseas Deployment • IFR
Month: Current Affairs - May, 2019