India ranks 138th in World Press Freedom Index 2018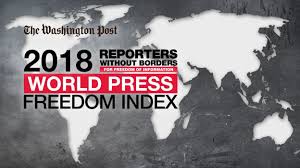 In recently released World Press Freedom Index (WPFI) 2018 by Reporters Without Borders, India was placed at 138th rank out of 180 nations surveyed worldwide in terms of press freedom in 2017. It was ranked at the 135th in WPFI 2017.
Key Facts
Top 10 Countries: Norway (1st), Sweden (2nd), Netherlands (3rd), Finland (4th), Switzerland (5th), Jamaica (6th), Belgium (7th), New Zealand (8th), Denmark (9th) and Costa Rica (10th).
SAARC nations: Afghanistan (118th), Bhutan (94th), Nepal (106th), Maldives (120th), and Sri Lanka (131st), all performed better than India with Pakistan (139th) and Bangladesh (146th) performing worse.
2018 WPFI reflects increasing hostility towards journalists in democratic countries. It showed that media phobia has become more pronounced. It suggests scary picture especially in democratic countries where political leaders are openly threatening journalists, even incarcerating them if they refuse to offer their loyalty. China's ranking remained unchanged at 175th position for the second year.
As per Index's definition, quality of press freedom in India is bad. India fared poorly on indicators such as hate speeches, attacks on journalists on social media, trolling them and targeting their reputation. It also mentions that at least 4 journalists were gunned down in India in 2017.
World Press Freedom Index (WPFI)
WPFI is produced by France-based international non-governmental organization Reporters Without Borders (RWB), or Reporters Sans Frontières (RSF). It ranks performance of countries according to index calculated based upon various parameters. These parameters include media pluralism and independence, respect for the safety and freedom of journalists, and the legislative, institutional and infrastructural environment in which the media operate. WPFI aims to promotes and defends freedom of information and freedom of the press.
Tags: India • International • National • Reporters Without Borders
Month: Current Affairs - April, 2018
Latest E-Books