India-Japan: MoU signed for Academic and Research Cooperation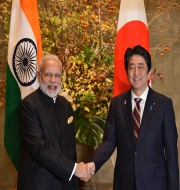 The Union Cabinet recently apprised a MoU (Memorandum of Understanding) signed between India and Japan. The MoU was signed between National Atmospheric Research Laboratory (NARL) that operates under Department of Space, GoI and the Research Institute for Sustainable Humanosphere called the RISH that operates under Kyoto University of Japan.
What are the objectives of the MoU?
The main objectives of the MoU are as follows:
According to the MoU signed, the NARL and RISH will continue their cooperation in the areas of technology, atmospheric sciences, collaborative scientific experiments and other related modelling studies.
They will exchange scientific materials, information, publications, students, faculty members and researchers.
The MoU will allow the countries to utilize the facilities such as Middle and Upper atmosphere radar in Japan, Mesosphere-Stratosphere-Troposphere radar, Equatorial Atmosphere Radar in Indonesia.
Background
NARL and RISH have been working together since 2008. This MoU was formalised in 2008 and was renewed earlier in 2013. In November 2020, NARL and RISH signed a fresh MoU to promote collaborative research under new guidelines.
India-Japan
India and Japan hold 2+2 dialogue annually. Japan is the second country after the United States with which India has such a dialogue format.
The major exports of India to Japan are petroleum products, chemicals, etc.
The major imports of India from Japan are transport, machinery, iron and steel, electronic goods.
The Foreign Direct Investment of Japan in India are mainly in electrical equipment, automobile, telecommunication, pharmaceutical sector.
Japan has invested 90 billion USD in the Delhi-Mumbai Industrial corridor. This will set up industrial parks, new cities, ports and airports.
Japan supplies nuclear reactors and nuclear technology to India. India is the only non-signatory of Non-Proliferation Treaty to receive the exemption from Japan.
Month: Current Affairs - April, 2021