Cyclone Mocha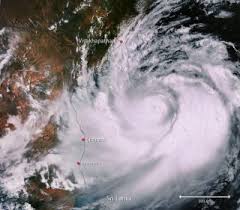 Cyclone Mocha, a powerful tropical storm, has garnered significant attention due to its potential impact on Bangladesh, Myanmar, and parts of northeastern India.
Predicted Landfall and Maximum Sustained Wind Speed
According to the IMD, Cyclone Mocha is expected to make landfall on May 14. The cyclone's maximum sustained wind speed is projected to range from 150-160 kmph. This formidable force raises concerns about potential damage and the safety of coastal regions in its path.
Potential Intensification and Category
Cyclone Mocha is expected to intensify further into an extremely severe cyclonic storm. The anticipated speed range for this intensification is estimated to be between 167-221 kmph. The term "Super Cyclone" used to describe this level of intensity is equivalent to a Category-IV hurricane.
Affected Countries: Bangladesh and Myanmar
The World Meteorological Organization (WMO) has highlighted the significant impacts expected from Cyclone Mocha in Bangladesh and Myanmar. Both countries are likely to experience the brunt of the cyclone's destructive forces.
Landfall Location and Weakening Potential
Cyclone Mocha is predicted to make landfall between Cox's Bazar in Bangladesh and Kyaukpyu in Myanmar. However, the Arakan coast, situated along this path, may weaken the heat potential of the cyclone before it reaches the shore. The presence of mountain ridges in this region contributes to lowering the heat potential, potentially mitigating the cyclone's impact.
Humanitarian Challenges and Preparedness
The United Nations Office for the Coordination of Humanitarian Affairs (OCHA) estimates that approximately six million people in Myanmar are in need of humanitarian assistance. Additionally, existing displacement and refugee populations, such as the Rohingya community, face increased vulnerability. Humanitarian Emergency Response Preparedness Plans have been activated, and humanitarian organizations have escalated their preparedness efforts in both Rakhine and northwest Myanmar.
Tags: Bangladesh • Myanmar • Super Cyclone • Tropical Cyclone
Month: Current Affairs - May, 2023
Category: Science & Technology Current Affairs