Current Affairs – January 1, 2021 [Today's News Headlines]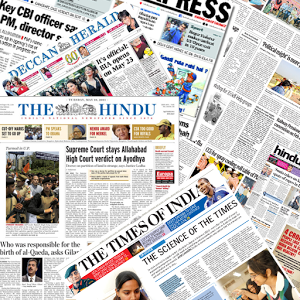 Here are Today's News Headlines by GK Today for January 1, 2021
India
AIIMS Rajkot: PM lays foundation stone
On December 31, 2020, Prime Minister Narendra Modi laid foundation stone of AIIMS Rajkot through a video conference.
Colonel Narinder Kumar dies
Colonel Narinder "Bull" Kumar died in New Delhi at the age of 87. He played a major role in securing the heights of Siachen Glacier in 1984. Also, he played a major role in Operation Meghdoot.
Kerala Assembly resolution against Farm Laws
On December 31, 2020, the Kerala Assembly passed a resolution demanding the scrapping of the three farm laws. The resolution demands to scrapping of the three laws.
Economy and Corporate
Interest rate on NSC, PPF and other small savings schemes unchanged
The Government of India has kept the interest rates on small savings schemes unchanged. The interest rates for various schemes were fixed as follows
Interest rates of Public Provident Fund (PPF) and National Savings Certificate (NSC) will continue to remain at 7.1% and 6.8%.
Five Year Senior Citizens Savings Scheme: 7.4%
Sukanya Samriddhi Yojana: 7.6%
Kisan Vikas Patra (KVP): 6.9%
Eight core industries output contracts
The output of eight crore infrastructure dropped by 2.6% in November 2020. Fertilizer, Barring coal and electricity recorded negative growth.
Upgraded e-Ticketing website and mobile app
On December 31, 2020, Railway Minister Piyush Goyal launched an upgraded e-ticketing website and mobile app to book online railway tickets. Under the new initiative, the train search and selection has been simplified. This has been done by putting all the information on one page to reduce the time used by passengers and enhance booking experience.
Agriculture Minister inaugurates Virtual agri-Hackathon, 2020
On December 31, 2020, the agriculture and farmers welfare minister Narendra Singh Tomar inaugurated the Virtual Agri-Hackathon, 2020 in New Delhi. The hackathon will focus on precision agriculture, farm mechanization, food technology, supply chain, green energy and waste to wealth.
Labour Ministry to notify 8.5% interest on Employment Provident Find for 2019-20
The Ministry of Labour will notify 8.5% rate of interest on Employees Provident Fund. It accounts to over six crore subscribers.
FASTag rollout
The Hybrid lanes at Toll Plaza are to remain operation till February 15, 2021 to avoid inconvenience to people.
Suneet Sharma appointed as new Railway Board Chairman and CEO
On December 31, 2020, the former Eastern Railway General Manager will be appointed as the new Railway Board Chairman and CEO.
ADB to provide 231 million USD for 120 MW hydroelectric power plant
The Asian Development Bank is to provide 231 million USD loan to increase the electricity generation capacity in Assam through construction of 120 MW hydroelectric power plant.
Reliance Jio Makes domestic calls free
The Reliance Jio recently announced that the interconnect usage charge (IUC) the company had levied a few months back will be revoked. This means that the voice calls from the network are free for its users.
IDBI sells 23% stake in IDBI Federal Life Insurance Company to Ageas
The Private lender IDBI recently concluded that the sale of 23% in IDBI Federal Life Insurance Compny to Ageas Insurance International NV for Rs 507 crores.
World
Indian Army Chief to hold talks with South Korean counterpart
The Chief of Army Staff General M M Naravane to hold extensive talks with his South Korean counter part to boost bilateral military ties. He also visited the Demilitarised Zone. It is a heavily fortified buffer zone that separates North and South Korea since the Korean war in 1950s.
China completes Railway line in Tibet
On December 31, 2020, China completed the track laying work for railway line in linking cities of Lhasa and Nyingchi in Tibet. The railway line is close to Indian border in Arunachal Pradesh.
Sports
Michael Kondo: Former Hockey player died
On December 31, 2020, the former hockey player Michael Kondo died. He was a member of Indian Hockey team that won gold in 1975 World Cup.
Tags: Current Affairs: News Headlines • Headlines • Latest News Headlines • News Headlines • Top Headlines
Month: Current Affairs - January, 2021
Latest E-Books