BCCI suspends IPL 2021 indefinitely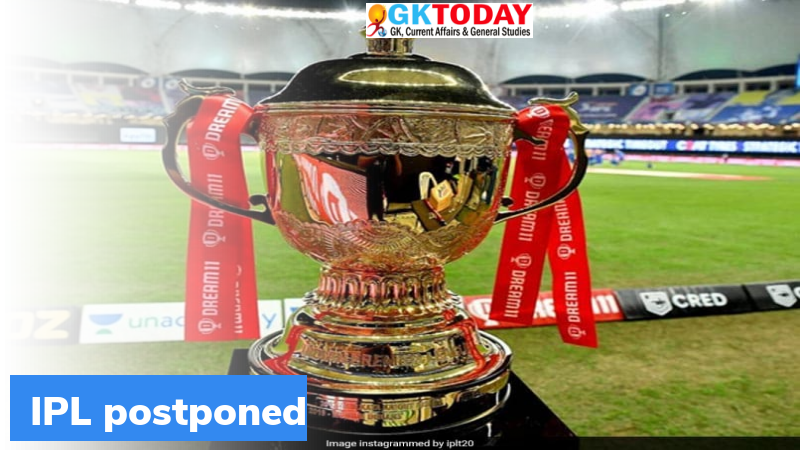 The Board of Control of Cricket (BCCI) has suspended the Indian Premiere League (IPL) indefinitely due to COVID-19. The decision came in after Balaji tested positive for COVID-19. Balaji is the bowling coach of CSK.
So far twenty-nine games has been conducted. Also, the T20 World Cup is to be moved from India to UAE. This is mainly because if held in India none of the participants will be comfortable to come to India due to the third wave in the country.
BCCI
It is the governing body for cricket in India. Grant Govan was its first president. The total annual income of BCCI in 2020 was 535 million USD. This includes 345 million USD from IPL, 139 million USD from bilateral cricket with other nations and 405 million USD from India's share of ICC revenue.
BCCI-Richest Board
In 2021, BCCI became the richest cricket board in the world. The revenue of BCCI increased exponentially after BCCI began the sale of media rights of the Indian team for ODIs, bilateral tests and T20 matches that are played inside the country.
The Star Network paid Rs 43.20 crore per international home match. In 2018-19, there were 22 test matches, Five T20s and ten ODIs. This added up to Rs 950.40 crores.
Another major source of income for the BCCI is the sponsors for the national team.
Revenue system
In 2014, a new contribution-based revenue distribution was adopted. This system was adopted by BCCI along with England and Wales Cricket Board. However, the system was dismantled by ICC (International Cricket Council) which eventually reduced the revenue of BCCI.
Month: Current Affairs - May, 2021