Bangladesh Elections: PM's Awami League registers landslide victory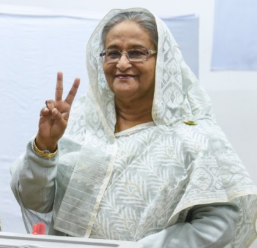 The ruling coalition led by Bangladesh Prime Minister Sheikh Hasina of Awami League has registered a landslide victory in Parliamentary elections. The ruling coalition led by Sheikh Hasina's Awami League party won 288 out of 300 seats which are about 96 per cent of the seats.
JatiyoShangsad

Bangladesh has a unicameral legislature. The legislature is referred to as Jatiyo Shangsad in Bengali and House of the Nation in English. It is a 350 member's house of which 300 Members from 300 territorial constituencies are directly elected on the basis of adult Franchise and the remaining 50 seats are reserved for women who are elected on the basis of proportional representation in the Parliament through Single Transferable Vote based on the vote share in elections.
Opposition calls the elections as rigged
The opposition parties have rejected the election outcome calling the election farcical and are demanding a new election be held under the authority of a nonpartisan government. The opposition claims that the ruling alliance has rigged the elections to ensure a favourable outcome.
The Bangladesh Prime Minister Sheikh Hasina has dismissed opposition claims that the vote was rigged. The Election commission of Bangladesh has ruled out any revote, saying there were no reports of large irregularities.
The United Nations Secretary-General Antonio Guterres called for restraint. Condemning violence against candidates and voters as unacceptable he has asked both sides to address complaints peacefully and legally.
Month: Current Affairs - January, 2019