6 June: Maharana Pratap Jayanti observed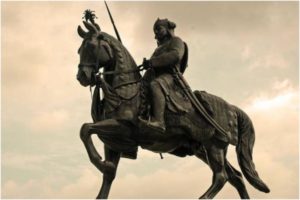 Maharana Pratap Jayanti is observed every year on 6 June to celebrate birth anniversary of brave Rajput warrior. The year 2019 marks 479th birth anniversary of great warrior.
About Maharana Pratap
He was the 13th Rajput king of Mewar, a province in modern-day Rajasthan. Then Mewar province also included some parts of now Gujarat and Madhya Pradesh
He was the eldest son of Maharana Udai Singh and Maharani Jaiwanta Bai. He became ruler of Mewar in 1572, after death of Udai Singh.
He is a symbol of Rajput valour, gallantry and diligence. He is considered to be one of the strongest Rajput warriors who fought against the Mughals supremacy to free his homeland from their control.
He owned Chetak (the horse) and Ramprasad (the elephant) who are known for their loyalty to their master.
Mughals and Maharana: After the siege of Chittorgarh by Mughals in 1568 Mughal emperor Akbar turned to Mewar which was still under control of Rana. While all other Rajput rulers surrendered to Akbar and became vassal or part of his council, Rana denied all six diplomatic missions sent to him by Akbar for a peaceful alliance, due to this the war became inevitable.
The famous Battle of Haldighati was fought between Maharana Pratap and Akbar's forces led by Man Singh I of Amer on 18 June 1576. Although the battle was won by Mughals but neither Maharana or any of his close family members were captured by the Mughal thus rendering their victory fruitless.
Death: He died on January 19, 1597 due to injuries from hunting accident while tightening the string of a bow with an arrow.
Successor: was his eldest son, Amar Singh I.
Month: Current Affairs - June, 2019