Wrestlers
Indian wrestler Rahul Aware has won a bronze in men's 61Kg free-style category at the 2019 World Championship in Nur-Sultan, Kazakhstan. However, this was not an Olympic category and thus the bronze did not help Aware qualify for the Tokyo ..
Tags: Cricket in India • Deepak Punia • Puniya • Rahul Aware • Sport in India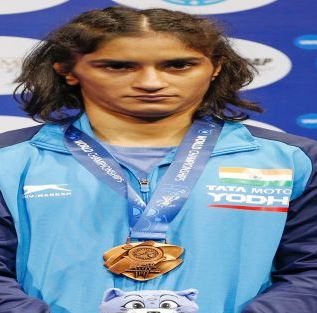 Wrestler Vinesh Phogat booked her spot for the 2020 Tokyo Olympics by winning the Bronze Medal at the World Championships. Bronze Medal at World Championships Vinesh Phogat defeated two-time world bronze medalist Maria Prevolaraki of Greece in the bronze medal ..
Tags: Geeta Phogat • Mahavir Singh Phogat • Phogat sisters • Sofia Mattsson • Sport in India
Wrestler Deepak Punia has won gold in men's 86-kg freestyle bout at the World Junior Wrestling Championships after beating Russia's Alik Shebzukhov in the final at Tallinn, Estonia. With this, Punia has become the first Indian to win gold at ..
Tags: Commonwealth Games • Deepak Punia • Palwinder Singh Cheema • Puniya • Wrestlers
Bajrang Punia won gold in the 65 Kilogram category at Tbilisi Grand Prix Wrestling tournament. In the 65kg final of the men's free style competition, Punia prevailed 2-0 over Iran's Peiman Bibyani in the capital city of Georgia. It is ..
Tags: Asian Games • Bajrang Punia • Dan Kolov • Puniya • Wrestlers
Star India grappler Vinesh Phogat has bagged gold in women's 53kg category of the Poland Open wrestling tournament in Warsaw on 4th August 2019. She prevailed 3-2 over local wrestler Roksana in the final of the competition. This was her ..
Tags: Commonwealth Games • Geeta Phogat • Haryana • Odunayo Adekuoroye • Phogat sisters
Indian wrestler Vinesh Phogat has won gold in the 53kg category at Yasar Dogu International in Istanbul. Phogat beat her Russian opponent Ekaterina Poleshchuk 9-5 in the final match to bag the gold medal. It was third gold in the ..
Tags: Commonwealth Games • Geeta Phogat • Haryana • Phogat sisters • Poleshchuk