Page-3 of
Uranium Current Affairs, GK & News
Uranium is a chemical element which is found in nature as uranium-238, uranium-235 and a very small amount of uranium-234. It decays very slowly by emitting an alpha particle but has an exceptionally long half-life (uranium-238  has a half-life of about 4.47 billion years while uranium-235 has a half-life of 704 million years). It makes ..
Topics: Half-life • Nuclear Power • Radioactivity • Uranium
The Forest Advisory Committee (FAC) under the Ministry of Forest and Environment (MoEF) has recommended for "in-principle" permission for exploration of Uranium in Amrabad Tiger Reserve in Telangana. The approval comes despite contrary reports by forest officials after field inspections. The revised proposal seeks permission for exploration of uranium in 76 km in Amrabad and ..
Topics: Amrabad • Energy technology • Nuclear Power • Physical sciences • Uranium
Iran announced it will continue with its low-level uranium enrichment in line with its nuclear deal with world powers. This move comes when on 3 May 2019, US forced Iran to stop producing low-enriched uranium and halt expanding its only nuclear power plant, thus intensifying campaign aimed at stopping Tehran's ballistic missile programme and curbing ..
Month: Current Affairs - May, 2019
Topics: 2015 Nuclear Deal • Heavy Water • International Atomic Energy Agency • Iran • Nobel Peace Prize • nuclear • Revolutionary Guard Corps • Tehran • UNSC • Uranium • USA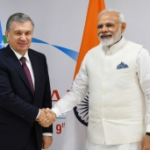 Indian Prime Minister Narendra Modi and Uzbek President Shavkat Mirziyoyev held a bilateral meeting on the sidelines of the Vibrant Gujarat Global Summit 2019. Important Outcomes of the Bilateral Meet An agreement for importing uranium from Uzbekistan was signed. An agreement for a line of credit of $200 million from India for financing housing and social ..
Month: Current Affairs - January, 2019
Topics: Gujarat • India • India-Central Asia Dialogue • President • Prime minister • Samarkand • Uranium • Uzbekistan • Vibrant Gujarat Global Summit
The Raja Ramanna Centre for Advanced Technology (RRCAT), an Indore-based unit of Department of Atomic Energy (DAE) has developed an instrument called Fluorimeter, to measure traces of uranium in water. The device is capable of examining traces of uranium in sample of water from 0.1 PPB (Parts-per- billion) unit to 100 PPB.  It can be ..
Topics: Actinides • Atomic Energy Commission of India • Chemistry • Department of Atomic Energy • Homi Bhabha National Institute • Nuclear energy in India • Nuclear technology • Physical sciences • Raja Ramanna Centre for Advanced Technology • Uranium