Oath of office Current Affairs, GK & News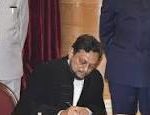 On 18 Nov, Justice SA Bobde administered the oath of office by President Ram Nath Kovind. He is appointed as 47th  Chief Justice of India. Mr Bobde's tenure in the Supreme Court witnessed some of the most controversial moments in the past of the higher judiciary such as sexual harassment charges against his predecessor. He ..
Topics: Ayodhya • Chief Justice of the United States • Government • Government of India • Oath of office • Practice of law • Ram Nath Kovind • Supreme Court of India • Supreme Court of Pakistan
Justice PR Ramachandra Menon has been sworn-in as the new Chief Justice of the Chhattisgarh High Court. Governor Anandiben Patel administered him the oath of office and secrecy at a function at Raj Bhawan. Earlier, Menon was a judge in the Kerala High Court. As per article 217 of constitution, the Chief Justice of a ..
Topics: Chhattisgarh High Court • Chief justice • Government of Chhattisgarh • Government of India • High Courts of India • Judiciary of India • Kerala High Court • Legal professions • Oath of office • Supreme Court of India • Supreme Court of Pakistan
Nilambar Acharya, Nepal's former law minister, has been appointed as the country's ambassador to India. The position of the Nepalese ambassador to India was vacant for more than a year after Deep Kumar Upadhyay resigned to join politics in October 2017. President Bidya Devi Bhandari has recently administered oath of office to Acharya at Rastrapati ..
Topics: Acharya • Bhandari • Bhawan • Humans • Oath of office • Rastrapati Bhawan • Surname • Surnames • Upadhyay
As per Article-316 of the Constitution, the Chairman and other members of UPSC shall be appointed by the President. In case the office of the Chairman becomes vacant his duties shall be performed by one of the other members of the Commission as the President may appoint for the purpose. A member of a UPSC ..
Topics: Government • Governor • Oath of office • Union Public Service Commission
Shrimat Pandey is the newly-appointed chairman of the Rajasthan Electricity Regulatory Commission (RERC) and will have tenure of five years. Justice Pradeep Nandrajog, the Chief Justice of Rajasthan High Court, administered oath of office to Pandey. The Commission was established on 2nd January 2000 under the ERC Act, 1998 o play a more effective role ..
Topics: High Courts of India • Judiciary of India • Oath of office • Pradeep Nandrajog • Rajasthani people