Page-2 of
Human activities Current Affairs, GK & News
Air India has become the first airline in the world to use a Taxibot on a A-320 aircraft with passengers on board. Taxibot is a robot-used aircraft tractor for taxiing an aircraft from parking bay to runway and vice-versa. Air India CMD Ashwani Lohani flagged off flight AI665 and it was carried to runway using ..
Topics: Air India • Aircraft ground handling • Airport • Aviation • Human activities • Indian Airlines • Pushback • TaxiBot • Taxiing • Tractors • Transport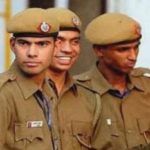 Based on a sample survey of 11,834 police personnel across 105 locations in 21 States, the Centre for the Study of Developing Societies has published the "Status of Policing in India Report 2019." What does the Report Say? Extra Hours The vast majority of police personnel in India, across gender, rank and contingent, work for ..
Topics: Crime prevention • Human activities • Law enforcement • Overtime • Police • Prevention • Surveillance • Working time
The rapidly changing climate is just one of the many byproducts of increasing insensitive eco-activities of humans. The Himalayan forests are one of the most crucial biomes of the country and support a large amount of biomass and organisms in their range. What has happened? Human activity in Himalayan forests ranges from trekking, camping, slash ..
Topics: Birds • Forest cover • Forests • Himalayas • Human activities
The labour reforms initiated by the government of Rajasthan have spurred growth in Rajasthan's MSME sector. What were the Reforms? In 2014-15 the government of Rajasthan amended four labour laws: The Industrial Disputes Act, 1947. The Contract Labour (Regulation & Abolition) Act, 1970. The Factories Act, 1948. The Apprentices Act (1961). Changes brought in by ..
Topics: Apprenticeship • Employee relations • Factories Act • Government of Rajasthan • Human activities • Industrial Disputes Act • Labour law • Labour Reforms • Work • Working time
On the occasion of 73rd Independence Day 2019, National carrier Air India will become the first Indian airline to fly over the North Pole. Its Delhi-San Francisco flight will take the route saving 2,000 to 7,000 kg of fuel and reducing the carbon emissions by 6,000 to 21,000 kg, per flight. It will fly over ..
Topics: Airline • Airlines • Aviation • Human activities • United Airlines