Fluorescence Current Affairs, GK & News
The CSIR and National Physical Laboratory have developed a bi-luminescent security ink and dispatched to the Bank Note Press in Dewas. About the Ink The bi-luminescent security ink glows in 2 colors- red and green when exposed to radiation of different wavelengths. When illuminated by a light source of 254nm, it glows red and when ..
Topics: CSIR • Fluorescence • Mini Ratna Companies • National Physical Laboratory of India • Phosphorescence • Security Ink • SPMCIL
Japanese-born Marine biologist Osamu Shimomura (90), who won the 2008 Nobel Prize in chemistry, has passed away in Nagasaki, Japan on 19th October 2018. Shimomura and two American scientists shared the 2008 Nobel prize for the discovery and development of a jellyfish protein (or Green Fluorescent Protein (GFP)) that later contributed to cancer studies. He ..
Topics: Bioluminescence • Chemistry • Fluorescence • Green fluorescent protein • Jellyfish • Molecular biology • Natural sciences • Osamu Shimomura • Physical sciences • Protein methods • Roger Y. Tsien • Shimomura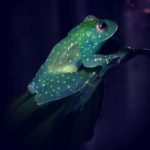 Scientists have discovered polka dot tree frog (Hypsiboas punctatus), the world's first fluorescent frog in Argentina. The newly discovered amphibian sports a muted palette of greens, reds and yellows under normal light, but in the dark gives off a bright blue and green glow. What have Scientists discovered? Scientists found that the polka dot tree ..
Month: Current Affairs - March, 2017
Topics: Argentina • Fluorescence • Fluorescent Frog • International • Science and Technology
Minister of State for Power, Mr. K.C. Venugopal held that over 259 lakh Compact Fluorescent Lamps (CFLs) have been distributed under Bachat Lamp Yojana, BLY and the scheme is proposed in the 12th Plan with modifications. The BLY scheme has been designed on PPP (Public Private Partnership) mode.
Month: Current Affairs - April, 2012
Category: Government Schemes Current Affairs
Topics: Compact fluorescent lamp • Electric light • Energy-saving lighting • Fluorescence • Fluorescent lamp • Gas discharge lamps • Interior design • Light • Mercury • Transparent materials • Venugopal