Ethnic groups in India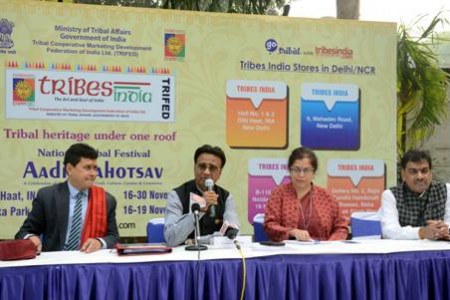 On 16 Nov, Union Home Minister Shri Amit Shah to Inaugurate the 15 Days' National Tribal Festival  "Aadi Mahotsav 2019" at Dilli Haat, INA, New Delhi. The theme of the Mahotsav is : "A Celebration of the Spirit of Tribal Culture, ..
Tags: Adivasi • Arjun Munda • Cabinet of India • Dilli Haat • Ethnic groups in India
On July 28, the Union government has launched the Go Tribal Campaign in New Delhi to promote the use of tribal handicrafts and natural products. TRIFED has organized this event to institutionalize collaborations and partnerships with different organizations to promote ..
Tags: Adivasi • Amazon • Ethnic groups in India • Indian society • Publishing
The 'Mela Kheer Bhawani' is one of the biggest religious festivals of the displaced community of Kashmiri pundits, and is associated with Hindu Goddess Ragnya Devi. It is recently celebrated with religious fervor and gaiety at Tulmulla area of central ..
Tags: Ethnic groups in India • Food and drink • Jammu and Kashmir • Kashmiri Pandits • Kheer
Bhupen Hazarika's son has rejected late father's Bharat Ratna award. The wholesome blame he has given to the Citizenship Amendment Bill,2016 which is in favour of providing citizensenship to non-muslim immigrants.Features of Citizenship Amendment Bill,2016The bill is amending Citizenship Act,1955.Aim ..
Tags: Assam • Ethnic groups in India • Golaghat Convention • Illegal Migrants (Determination by Tribunal) Act • Immigration legislation
Rajasthan is still under the Gurjar's agitation due to which 26 trains have been diverted and 12 were cancelled. Other districts that are also under the influence of this protest are Dholpur,Bundi and others. Protestants have blocked the roads of ..
Tags: Ethnic groups in India • Gujari language • Gurjar • Gurjar agitation in Rajasthan • Meena
The Maharashtra government has set up a 17-member committee to review various schemes being implemented for the welfare of tribals in the state. The committee will be headed by former MLA and Shramjeevi Sanghatna president Vivek Pandit. The panel will ..
Tags: Adivasi • Asia • Ethnic groups in India • Indian society • South Asia