Cultural globalization Current Affairs, GK & News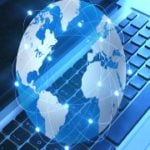 Kerala's plan for providing free Internet access to the poor has been roll out. Recent report by the Internet And Mobile Association of India (IAMAI), shows that Kerala is already halfway to its goal of 100% coverage. Kerala Fibre Optic Network project, pegged at ₹1,548 crore, would provide Internet to every household in the State. The ..
Topics: Cultural globalization • Digital technology • Information and communications technology • Internet • Kerala • Media technology • Technology • Telegraphy
The International Internet Day (IID) is observed every year on 29th October  to mark the anniversary of the first usage of the Internet to send message electronically in 1969.The day also offeres the possibilities offered by new technologies to improve standards of living by giving people more understanding of technology and its functions.
Topics: Cultural globalization • Information and communications technology • Internet • Internet culture • Internet Day • New media • Technology
The International Security Alliance (ISA) was established in February 2017 for combating organized and transnational crimes. The alliance headquartered at Abu Dhabi, UAE is an international collaboration of Ministries of Interior and working groups working together to combat organized and transnational crime. The members of the alliance are: United Arab Emirates French Republic Kingdom of ..
Topics: Countries • Cultural globalization • Geography of Asia • Organized Crime • Transnational • Transnational organized crime • United Arab Emirates • Western Asia
The International Customs Day (ICD) is observed every year on January 26 to recognize the role of custom officials and agencies in maintaining border security. It focuses on the working conditions and challenges that customs officers face in their jobs. The 2019 theme is "SMART borders for seamless Trade, Travel and Transport". This reflects the ..
Topics: Cultural globalization • Customs • Customs duties • Customs services • International law • International Relations • International Statistical Classification of Diseases and Related Health Problems • Political geography
The Intergovernmental Conference to Adopt the Global Compact for Safe, Orderly and Regular Migration was held in Marrakech, Morocco on 10th and 11th of December, 2018. It is the first-ever UN global agreement on a common approach to international migration in all its dimensions. The global compact is non-legally binding. It is grounded in values ..
Topics: Academic disciplines • Bird migration • Compact • Cultural globalization • Global Compact • Global Compact for Migration • Human migration • Intergovernmental Conference to Adopt the Global Compact for Safe, Orderly and Regular Migration • International migration • United Nations