Coromandel Coast Current Affairs, GK & News
The first-of-its-kind-ready-reckoner 'Red Atlas Action Plan Map' has been launched by Vice-President M Venkaiah Naidu along with the 'Coastal Flood Warning System App (CFLOWS-Chennai). The 'Red Atlas Map' is prepared by the Union Ministry of Earth Sciences to aid Tamil Nadu government in effective flood mitigation in Chennai which witnessed the worst deluge in 2015. ..
Topics: Chennai • Coromandel Coast • Flood • Flood control • Hydrology • Nature • Physical geography • South Indian floods • Water
Rotary club of Madras North has unveiled a project "Kannamaa" to provide sanitary napkins to the students. The project was started in August 2018 by providing free, biodegradable sanitary napkins to 82 students at the Government High School in Uthandi of Tamil Nadu. Under this Project, sanitary napkins are provided to over 300 students from ..
Topics: Chennai • Coromandel Coast • Geography of India • Sanitary napkin • Subdivisions of India • Tamil Nadu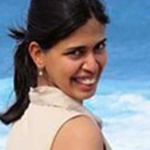 Dr Divya Karnad, Assistant Professor of Environmental Studies at Ashoka University has been awarded the prestigious Global Future For Nature Award 2019 for her work on marine conservation. Other Recipients The other recipients of the Global Future For Nature Award is awarded for the year 2019 are: Fernanda Abra (Brazil) and Olivier Nsengimana (Rwanda). Dr Divya ..
Category: Awards, Persons & Places in News
Topics: Conservation of Sharks • Coromandel Coast • Dr Divya Karnad • Future for Nature 2019 Award • Future for Nature Award • Future for Nature foundation
On July 2, the first meeting of the Cauvery Water Management Authority (CWMA) will be held at Central Water Commission (CWC) office in New Delhi to resolve disputes over sharing of river water among Tamil Nadu, Karnataka, Kerala and Puducherry. The meeting of the 9-member Authority will be chaired by the CWC Chairman S Masood ..
Topics: Coromandel Coast • Karnataka • Kaveri • Rivers of India • States and union territories of India • Tamil Nadu
The Union Water Resources ministry is holding the regional conference of southern states in Hyderabad on February 20, 2018 to resolve the pending inter-state water issues. During the meeting, issues such as the implementation of the latest orders of the Supreme Court on sharing of Cauvery waters, interlinking of rivers like Godavari-Cauvery, notification of jurisdiction ..
Topics: Andhra Pradesh • Coromandel Coast • Godavari River • India • Irrigation in India • Kaveri • Kaveri River water dispute • Krishna River • Polavaram Project • Politics of Karnataka • Rivers of India • States and union territories of India