Communist Party of India Current Affairs, GK & News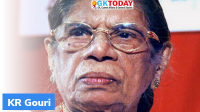 A former minister and an old-time communist leader K R Gouri Amma passed away in Thiruvananthapuram. About Gouri Amma She was born on July 14, 1919 in Alappuzha district. She studied law. Later she became a member of Communist Party of India. She played a leading role in fighting for the rights of unprivileged sections ..
Month: Current Affairs - May, 2021
Category: Persons in News
Topics: Communist • Communist Party of India • Elections • K R Gouri Amma • Kerala Government • Thiruvananthapuram

Former Vice-President of India Hamid Ansari launched the book authored by Bhalchandra Mungekar, which was titled as "My Encounters in Parliament". The event was attended by NCP chief Sharad Pawar, CPI general secretary D Raja and CPI(M) general secretary Sitaram Yechury. Bhalchandra Mungekar is an Indian economist, Social worker and a former Rajya Sabha member. He is an ..
Topics: Communist Party of India • Mohammad Hamid Ansari • Vice President of India
Santosh Rana (76), the veteran Naxalite leader, has passed away in Kolkata on June 29, 2019. He is one of the foremost leaders of the Communist Party of India (Marxist-Leninist) and a major thinker on caste, class and tribal politics in West Bengal and winner of a top literary award in the State. The CPI-ML ..
Topics: Ashim Chatterjee • Communist Party of India • CPI • Left-wing politics • Naxalite • Political spectrum • Politics by country • Politics of West Bengal • Provisional Central Committee, Communist Party of India • Santosh Rana
Duti Krushna Panda (97), the veteran CPI leader and former Lok Sabha member, has passed away in Bhubaneswar, Odisha on May 5, 2019. Panda was elected to Lok Sabha from Bhanjanagara Parliamentary Constituency (presently Aska) in 1971. He was also elected to the state assembly from Aska seat in 1990. He was actively associated with ..
Topics: Asika • Aska • Bhubaneswar • Communist Party of India • Ganjam district • Lok Sabha • Odisha • Politics of India • Ramchandra Rath
Nirupam Sen (72), Veteran CPI (M) leader & three-time MLA from Bardhaman Dakshin constituency , has passed away in Kolkata, West Bengal on December 24, 2018. One of the most prominent faces of the Buddhadeb Bhattacharya cabinet after the CPI(M)-led Left Front was voted to power in 2001, Sen was handed the charge of Commerce ..
Topics: Bardhaman Dakshin • Buddhadeb Bhattacharjee • Communist Party of India • Left Front • Nandigram violence • Nirupam Sen • Politics of India • State governments of India • West Bengal