Childhood Current Affairs, GK & News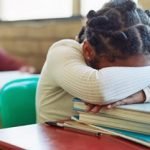 As per a study published in the Journal Heart, it has been observed that adults who are exposed to maltreatment in their childhood are very much prone to contracting Cardio-Vascular Disease (CVD) in their adulthood. Also, women are more likely to be exposed to this threat more than men if they had disturbed childhood. Highlights ..
Month: Current Affairs - July, 2020
Category: International Current Affairs
Topics: Cardiovascular disease • Childhood • Childhood Abuse • UK • UK Bio Bank • United Kingdom
The Union Minister of Health and Family Welfare, Dr. Harsh Vardhan has recently released a report card on "Breastfeeding & Infant & Child feeding Practices" with data from the State and UTs on 8th August in New Delhi. In it, Manipur has topped the rankings in the Breastfeeding report card in the country. National capital ..
Topics: Ageing • Breastfeeding • Breastfeeding and HIV • Breastfeeding in public • Childhood • Harsh Vardhan • Human development • Infant • Infant feeding • RTT • Vardhan
The World Breastfeeding Week (WBW) is an annual celebration which is being held every year from 1 to 7 August in more than 120 countries. The purpose of WBW is to create awareness among the parents about breastfeeding and to encourage parents to adopt breastfeeding. The week also create awareness about the importance of initiation ..
Topics: Breastfeeding • Breastfeeding in public • Breastfeeding promotion • Childhood • Health • WBW • World Breastfeeding Week • World Health Organization
The Bangalore-based electronics engineer, Nitesh Kumar Jangir has won the 2019 Commonwealth Secretary-General's Innovation for Sustainable Development Award in London, United Kingdom (UK). He received his award in the 'People' category alongside 14 other innovators from across the 53 member-countries of the Commonwealth. Jangir created Saans as a breathing support device to tackle avoidable deaths ..
Topics: Childhood • Human development • Infancy • Infant • Infant respiratory distress syndrome • Medical specialties • Neonatology • Preterm birth • Respiratory distress syndrome
The Justice Department on Friday said that there are around 47000 cases of unaccompanied children. They were taken in to Government custody between July 1 2017 and June 25 2018. Around 1000s of children were separated from their families in the border. This was halted by the judge in 2018. The Judge said that he ..
Topics: Child custody • Child welfare • Childhood • Family • Family law • Social work • Unaccompanied minor • Welfare