Allahabad Current Affairs, GK & News
According to the recent report released on Tuesday, 21st January 2020, by the environmental non-governmental organization, Greenpeace's India branch, Jharia, a city in Jharkhand is the most polluted city in India, which is followed by Dhanbad of the same state. Greenpeace was founded in 1971 in Vancouver, Canada and is headquartered in the capital city ..
Month: Current Affairs - January, 2020
Topics: Allahabad • Bareilly • Bengaluru • Canada • Central Pollution Control Board • Delhi • Dhanbad • Firozabad • Ghaziabad • Greenpeace • Jharia • Jharkhand • Netherlands • Noida • Vancouver • World Health Organisation
The Union Water Ministry has  excavated an old, dried-up river in Prayagraj (formerly Allahabad) that linked the Ganga and Yamuna rivers. The aim is to develop a newly discovered river as a potential groundwater recharge source. This "ancient buried river" is around 4 km wide, 45 km long and consisted of a 15-metre-thick layer buried ..
Topics: Allahabad • Groundwater • Sarasvati River • States and union territories of India • Uttar Pradesh • Water • Yamuna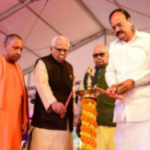 The government of Uttar Pradesh celebrated UP Divas for the first time on 24th January 2019. The proposal was floated by Governor Ram Naik to celebrate the UP Divas on the lines of Maharashtra Day so that people know the history and culture of the state. History of Uttar Pradesh: Biggest State of India The ..
Month: Current Affairs - January, 2019
Topics: Agra Presidency • Allahabad • Bengal Presidency • Lucknow • Maharashtra Day • North Western Province • United Province • UP Divas • Uttar Pradesh
On January 11, an agreement for Renukaji Dam Multipurpose Project was signed in New Delhi among 6 States – Uttar Pradesh, Haryana, Himachal Pradesh, Delhi, Rajasthan and Uttarakhand. Under the agreement, three storage projects are proposed to be constructed on the river Yamuna and two of its tributaries – Tons and Giri in the hilly ..
Topics: Allahabad • Hindu holy cities • India • Kishau Dam • Sarasvati River • States and union territories of India • Uttar Pradesh • Uttarakhand • Yamuna • Yamuna River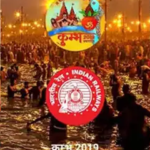 Rail Kumbh Seva Mobile App has been launched by the North Central Railway (NCR) to help the devotees arriving in Allahabad for the Kumbh Mela. About the Mobile Application The Mobile Application 'Rail Kumbh Seva Mobile App' has been designed to provide critical and valuable information to the devotees, tourists and other passengers who will visit Allahabad during ..
Category: Art & Culture Current Affairs
Topics: Allahabad • Haridwar • Kumbh Mela • Nasik • North Central Railway • Rail Kumbh Seva Mobile App • Ujjain