Roscosmos: Current Affairs, GK & News - 2020-2021
ExoMars Program
Published: March 14, 2020
The ExoMars Mission has been delayed by 2 years due to software problems. The ESA mission is now expected to be launched in 2022. About the Program The ExoMars or Exobiology on Mars mission is a collaborative program between the European Space Agency (ESA) and the Roscosmos (Russian space agency). Its objective is to look ..
Topics: ESA • Mars • Rosalind Franklin • Roscosmos • Spacecrafts • Trace Gas Orbiter
India Plans to build its own Space Station
Published: June 14, 2019
The Indian Space Research Organisation (ISRO) has unveiled its plan to build its own space station in low earth orbit to conduct microgravity experiments in space in 5 to 7 years. Indian Space Station The proposed Indian Space Station would be smaller than the existing International Space Station (ISS). While the ISS weighs 420 tonnes, ..
Topics: Canada • CSA • ESA Europe • Gaganyaan • Indian Space Research Organisation • Indian Space Station • ISRO • Japan • JAXA • Low Earth orbit • microgravity • NASA • Roscosmos • Russia • US
SpaceX launches Cargo Mission for NASA to ISS
Published: May 5, 2019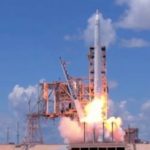 SpaceX successfully launched a Dragon spacecraft on a cargo mission for NASA to International Space Station (ISS). About Mission This is SpaceX's fifth launch of year. The launch was rescheduled earlier due to some electrical problem on ISS. It was launched on a 'Falcon 9' rocket, from Cape Canaveral in Florida. It is being used ..
Month: Current Affairs - May, 2019
Topics: Canadian Space Agency • CRS-12 Mission • Dragon spacecraft • ESA • European Space Agency • ISS • Japan Aerospace Exploration Agency • JAXA • Low Earth orbit • NASA • Roscosmos • Russia • SpaceX • The International Space Station
Methane surge spotted in the red planet
Published: April 3, 2019
The European spacecraft, Mars Express orbiter has confirmed the presence of Methane gas in Mars. Methane being released in the red planet was first found by the NASA's Curiosity Rover.  It measured the presence of Methane on 15 June 2013. It also said that the methane might have originated from the Gale Crater to the ..
Topics: Atmosphere of Mars • ExoMars • ExoMars Trace Gas Orbiter • Gale • Mars • Methane • Physical sciences • Rosalind Franklin • Roscosmos • Spacecraft • Spaceflight
Soyuz Spacecraft Successfully reach ISS
Published: March 18, 2019
Russian Soyuz spacecraft carrying  NASA Astronaut Nick Hague and Christina Koch, and Cosmonaut (Russian Crew members are called as a cosmonaut) Alexey Ovchinin successfully docked International Space Station. Soyuz Spacecraft Soyuz is a Russian Spacecraft carries people and supplies to and from the space station. Soyuz Spacecraft also function as lifeboats and one Soyuz spacecraft is always docked ..
Month: Current Affairs - March, 2019
Category: Science & Technology Current Affairs
Topics: Canada • CSA • ESA • Europe • International Space Station • ISS • Japan • JAXA • NASA • Roscosmos • Russia • Soyuz Spacecraft
Advertisement